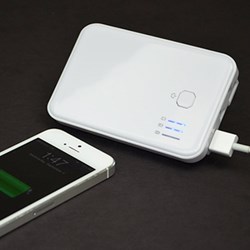 San Jose, CA (PRWEB) September 09, 2013
For a limited time, Suntactics, a portable solar company, is now offering a free USB battery with any sCharger purchase. Customers will receive one (1) 5000mA battery as a complimentary gift for purchasing a solar charger, the battery retails for $25.99 on the Suntactics website.
A 5000mA battery works perfectly with any Suntactics sCharger, and is the perfect companion to have while camping, at the beach, or anywhere electricity is unavailable.
Suntactics portable solar chargers are capable of wall charging speeds, which means the sChargers can fully charge the 5000mA USB battery in just under 2 hours, the same amount of time it takes to charge most smartphones.
Click here for more details on the free battery offer.
Portable power is essential to have when out in the wilderness, and could potentially be a lifesaver. A smartphone with satellite connection out in the middle of nowhere is crucial, but so is the capability to keep that phone charged when you need it.
There have been plenty of lost hikers this season, who were lost because their smartphones stopped working. But there were also a lot of saved hikers, because they still had power left in their phone.
Suntactics believes that people out in the middle of nowhere need a reliable source of portable electricity, at all times. Suntactics has served many first responders, soldiers, hikers, and travelers that needed power where none was available. Suntactics is more than happy to provide a "plan B", a free USB battery for extra insurance when there is no sunlight available to charge a phone.
About Suntactics
Suntactics focuses on portable solar and off grid solar energy products. Their current products are a unique 5-watt handheld solar charger called the sCharger-5 for solar charging smartphones like the iPhone and powerful dual port 14-watt solar charger called the sCharger-12 for solar charging multiple remote devices including tablets like the iPad. These compact high power and durable solar power chargers meet the needs for a wide range of portable devices. The units are manufactured in the USA at Fastrak, a veteran owned contract manufacturer. Suntactics is headquartered in San Jose, CA.