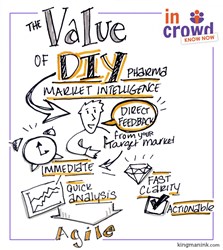 A customer-managed, DIY option is an obvious answer to meet growing industry needs.
Cambridge, MA (PRWEB) September 08, 2013
InCrowd, the only provider of real time market intelligence for the pharmaceutical industry, announced today the launch of InCrowd Answers. A completely do-it-yourself (DIY) intelligence-gathering tool designed to put the customer in control of their data.
"We developed InCrowd Answers in response to feedback from the pharma industry," said InCrowd CEO Janet Kosloff. "Our customers told us about their need for speed and flexibility around data acquisition, their desire for security related to their proprietary data and of course the need to save money. A customer-managed, DIY tool was an obvious answer."
InCrowd Answers features an easy to use, DIY dashboard providing total control and access to real time data on a 24/7 basis. The DIY offering includes:

Basic InCrowd platform
Statistical testing
Crowd Builder tool
Follow up Crowds
Technical support
The original product offering, InCrowd Answers Plus, offers a full service research suite for those who aren't ready or don't have time for DIY. It offers all the capabilities of InCrowd Answers along with a few helpful additions:
Advanced InCrowd platform featuring Crowd quotas, branching and screening
Dedicated client services support
Questionnaire design assistance and advice
InCrowd Answers puts the customer in the role of expert; they know their company and business better than anyone else. With the launch of this tool, they are able to quickly and directly ask the questions they need answered. A DIY managed real time research tool will further revolutionize market intelligence gathering and enable companies to gain the information they need in real time.
About InCrowd
InCrowd's on-demand platform provides direct and immediate access to Crowds of screened and targeted healthcare professionals. Crowd queries are fast, easy and specialized for the healthcare industry. Micro surveys facilitate fast response rates, while specialized crowdsourcing provides answers within hours, even minutes. InCrowd is the only company offering healthcare focused real time market research. For more information, visit InCrowd, Inc.