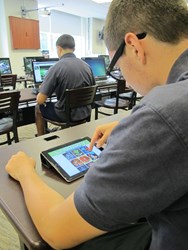 White Plains, NY (PRWEB) September 10, 2013
Say goodbye to heavy backpacks. Stepinac High School introduces a new concept to its academic program this week as it rolls out a complete digital textbook library for its students. This program will eliminate the need for the traditionally heavy and expensive books that students use for their academic courses.
In partnership with Pearson, a provider of educational materials, technologies, assessments and related services, Stepinac is implementing the new digital library for its 675 students this week. Stepinac has worked with Pearson for the past two years to offer select digital books to its students, but this is the first time all of its textbooks will be online.
"In keeping with Stepinac's commitment to remain at the forefront of educational technology, we have moved to this digital library," said Father Thomas Collins, President of Stepinac. "We are thankful to Pearson, the world's leading learning company, for working with us on this national pilot program that will set the trend for schools across the United States for years to come. The digital library will help keep our tuition affordable as well as prepare our students for their college careers."
After a student is charged a one-time annual fee of $150, he can visit the 40-textbook digital library through a website or application for various Androids and iPads to gain access to its College Prep Digital Library and the Honors/AP Digital Library. Typically, students purchase seven hard copy textbooks for the school year, costing $500 to $600 on average.
"As the leading provider of electronic learning programs to educational institutions, our digital library application has been a standard for collegiate students around the world. However, this is the first time that a high school is taking full advantage of this program," said Lisa Alfasi, Account General Manager, Private and Parochial Schools at Pearson. "We are pleased to be able to create a customized program for Stepinac. Many other schools are taking a look at this new program and jumping on this educational technology bandwagon."
Over the past two years, Stepinac has invested over $1 million in infrastructure to support this customized digital library, said Frank Portanova, Stepinac's Vice Principal. The next step will be to incorporate charging stations for laptops and tablets throughout the school.
"We have really set the stage for cutting-edge technology in the region," said Portanova. "Having placed Smart Boards in all of our classrooms and a brand new wireless technology center in the school for students, this was the next logical step. Not only will this cut costs for parents, it will also prepare our students for their post-secondary studies."
Patricia Murphy, Director of Technology at Stepinac, agrees. "More and more colleges are turning to hybrid courses – a blend of face-to-face interaction with online educational technologies. The digital library's interactive tools and resources will ensure a smooth transition for our students into college."
Founded in 1948, Archbishop Stepinac High School's mission is to offer young men a highly competitive academic and extracurricular program that will prepare them for college and leadership roles. The faculty and staff accomplish these objectives by pursuing excellence and creating a supportive, disciplined atmosphere with a strong sense of camaraderie and Christian values that are unique to the Stepinac experience. For more information on Stepinac High School please visit http://www.stepinac.org.