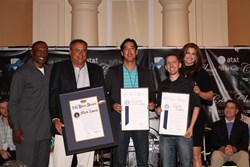 In addition to being a waste of costly resources, 9-1-1 misuse and abuse is a major safety issue
(PRWEB) September 07, 2013
Over 250 million calls are made to 9-1-1 annually and nearly half of those calls are caused by misuse and abuse—prank calls, people asking for information, duplicate calls, people asking for driving directions, and even calls for help finding a lost pet or hurt animal.
In addition to being a waste of costly resources, 9-1-1 misuse and abuse is a major safety issue as emergency lines are limited, which means crime prevention and life-saving solutions are delayed when 9-1-1 operators and first responders are busy dealing with non-emergencies. That's why the charity 9-1-1 for Kids was created.
9-1-1 for Kids helps educate children about proper 9-1-1 usage. Former Los Angeles/Oakland Raider and future NFL Hall of Fame inductee Tim Brown is the charity's international chairman. Supermodel turned business mogul Kathy Ireland is the Worldwide Ambassador. They have been helping raise awareness through special charity events and fundraising that goes toward educational materials. For example, the charity created a video program for schools that teaches children how calling from a landline is preferred because the location of the call is automatically transmitted to 9-1-1 call centers. Accurate address information is central to coordinating emergency services quickly.
Mobile phones do not transmit location as reliably or efficiently as landlines. In the 1970s, a system was developed--known as Automatic Location Identification (ALI)--to connect landlines to a database program that would transmit addresses to 9-1-1 call centers. Mobile phones often times transmit inaccurate location or no location at all. That is why it is important to use a landline if possible.
This type of education is valuable for children and adults to know. 9-1-1 for Kids executive director Elise Kim says "teaching children is the most effective way to inform families" about proper 9-1-1 usage "because children talk about what they learn to their parents, and they influence adults to behave safely." This protects neighborhoods, argues Kim, because proper 9-1-1 usage allows emergency resources to be directed to real emergencies, making communities safer.
Enter U.S. Best Repair Service, a leading provider of default mortgage field services and general contractor. In the mortgage industry, they specialize in repairing and protecting abandoned bank-owned homes, which attract crime and neighborhood blight if left unkempt. Their services include painting over graffiti, boarding broken windows, maintaining overgrown lawns, and securing hazards like empty pools which are unsafe for curious neighborhood children.
As an advocate for neighborhood safety and a specialist in removing community blight, CEO Mark Zaverl felt 9-1-1 for Kids was a charity that fit well with U.S. Best. "It's a cause that affects literally everybody," says Zaverl, or as 9-1-1 for Kids co-founder Elise Kim likes to say, "Everybody should care about 9-1-1 education because even if you don't like kids, one day a child could save your life by dialing 9-1-1 for you."
The three seemingly unconnected pioneers--Elise Kim, co-founder and director of 9-1-1 for Kids; Tim Brown, Raider football legend and future NFL Hall of Fame inductee; and Mark Zaverl, founder and CEO of a small handyman service turned national general contractor—will be attending Five Star Conference in Dallas, TX on September 8-10 at the Hilton Anatole for the mortgage servicing industry's largest gathering of its kind to raise awareness for 9-1-1 for Kids and abandoned bank-owned home protection.
Tim Brown will be available on Monday, September 9th, from 12pm to 2pm at booth #112. Media coverage is welcome. Advanced credentialing is necessary for this event. Please contact Mike Gleason for media inquiries:
Mike Gleason
mgleason(at)usbestrepairs(dot)com
714-599-7831 office
949-236-7421 mobile
###