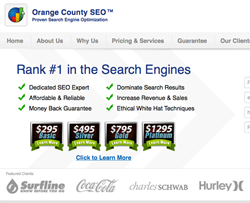 SEO & Social Media is a Powerful Online Marketing Combination Guaranteed to Boost Website Traffic & Sales.
Huntington Beach, CA (PRWEB) September 10, 2013
As mobile search technology continues to advance at a blinding pace, Twitter has announced the launch of its version of universal search results to bring the platform in line with current mobile search user expectations. Orange County SEO can help businesses take advantage of social media and other search platforms to drive traffic to their websites and increase sales.
The changes involve three primary modifications to the Twitter.com main search results panel. When a user performs a search on a mobile device, Accounts or People are now mixed into the search results. The results also show inline photos and include a "Photos" tab along with the "Results" and "People" filters. These changes allow users to quickly find related material and content without searching specifically for these items. This change is a powerful marketing tool that, if used correctly, can put a business's message in front of a huge potential audience.
According to Orange County SEO President Tyler Collins, social media marketing is one of the biggest and fastest-growing platforms for businesses that want to reach a wider targeted audience. "The very nature of social media makes it ideal to target particular groups with certain products or services," Collins says. "Because people on social media become followers, join groups or otherwise choose the content they see, it is important to connect to as many groups and individuals as possible. The new Twitter platform changes make it easier for users to find the products and people they are interested in because the new integrated items will point them to targeted results."
Orange County SEO can help for-profit and non-profit businesses and individuals take advantage of all the new social media and other marketing techniques available thanks to changing technology. With the help of SEO experts, businesses, individuals and non-profit organizations can expand their reach, build brand loyalty and increase return on their advertising investment. The professionals at Orange County SEO are ready to discuss how they can help businesses turn their advertising budgets into real results through the use of social media and other forms of Internet marketing.
Source: Search Engine Land, "Twitter launches its version of universal search results," Matt McGee, August 1, 2013.
Orange County SEO Company is an Internet marketing firm that specializes in helping businesses, non-profit organizations and individuals make the most of their advertising budgets. With pay-per-click account management, link building services, copywriting services and local internet marketing assistance, Orange County SEO can maximize returns on marketing budgets and offers a money-back guarantee if results are not achieved within the first six months.
For More Information:
Orange County SEO Company, Inc
16400 Pacific Coast Hwy. Suite 218
Huntington Beach, CA. 92649
(949) 494-0007
http://www.orange-county-seo.com