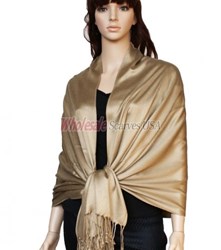 Beautiful Pashmina scarfs for retailers and resellers.
Maspeth, NY (PRWEB) September 12, 2013
WholesaleScarvesUSA.com has worked diligently to establish themselves at the position of number one among Pashmina scarf wholesalers in the U.S. by promising to provide superior and professional customer service and the highest quality original products. WholesaleScarvesUSA.com continues this tradition by offering over 500 styles of top of the line scarves, shawls, wraps, stoles and cashmere feel scarves.
Scarf wholesalers, distributors, and retailers can rest assured that with WholesaleScarvesUSA.com they receiving the best quality products at the lowest prices available. As the leading wholesaler of Pashmina scarves, featuring a low minimum order amount, 100% satisfaction guaranteed and the promise to beat all competitor pricing; clients will find a full line of the best and most unique scarves offered anywhere at WholesaleScarvesUSA.com.
Whether a small retailer in need of single styles and colors or a large distributor in need of high volume and selection, WholesaleScarvesUSA.com has exactly what customers are looking for always at the best price, exceptional quality, free shipping and satisfaction guaranteed.
Right now, the most beautiful Pashmina scarves for fall and winter are ready for customers at WholesaleScarvesUSA.com. Customers may select from among the deep vibrant gold, orange and red hues of fall, specialty jacquard bordered scarves or unique paisley strips for the upcoming holiday season. Whatever customers are looking for, it can be found from among the Pashmina scarves made only from the highest quality raw materials from WholesaleScarvesUSA.com. The hardworking and dedicated staff at WholesaleScarvesUSA.com has over 500 styles and colors in stock and is ready to meet and exceed customers' expectations every day.
Order Wholesale, Quality Pashmina Scarves from Wholesale Scarves USA today.
Visit WholesaleScarvesUSA.com and contact a member of Wholesale Scarves USA helpful staff via email or toll-free to find the ideal selection of unique high quality Pashmina scarves for clients and customers today. Shipping is free every day in the U.S. and satisfaction is always guaranteed.
About WholesaleScarvesUSA.com
Offering customers over 15 years of the highest quality and style Pashmina scarves in the U.S., the team at Wholesale Scarves USA brought their expertise to the web in 2011 and has risen to become the number one wholesale importer. By offering 100% customer satisfaction, with professional and courteous customer service, WholesalescarvesUSA.com promises to meet and exceed clients' expectations with the best in service, quality and style that can be found anywhere.