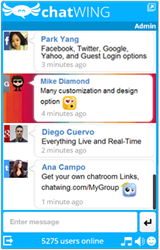 New York, NY (PRWEB) September 08, 2013
Chatwing's elite team of developers have been reaching out to website owners and bloggers for months. In this latest initiative, the developers have pointed out the importance of Twitter trends for 2013. They focused on several important topics that will benefit thousands of web users.

Timely trends. Chatwing chat software developers believe that trends must have a modern flair. While users may think that there are no old trends, various things have been repeated over the years, thus creating no value at all. "A trend must have a form of attitude. Twitter grows every minute, so it is important for trends to attract people in a smart manner," Says Mike Diamond, head chat app developer.
Live Sharing. Logged in Twitter users now have the capability to instantly tweet live chat room content with one click. "Live chat messages have the ability to become tweets. There is no stopping them. To make your blog active, try your best to discuss the newest Twitter trends of 2013 and then tweet the message live. The discussions will bring in traffic." Mr. Diamond said.
Experiential. Experience is also necessary to make a Twitter trend viable for discussion. "Users must be able to experience the trend at the right time. A trend is like a smell. It will hover in online communities, yet users will try their best to experience it—in any ways. Only find Twitter trends that are experiential." Mike Diamond concluded.
The Chatwing Team is working round the clock to create new versions of their chat software. This is their dedication to the field of online connectivity and blogging. Apart from that, the chat app team is also researching for any upcoming trends—not just in Twitter, but other social media sites as well.
About Chatwing.com
Chatwing.com specializes in the new field of website chat. Over years, the Chatwing team has introduced live chat widget for hundreds and thousands of blogs. The Chatwing application bridges people from many parts of the world, creating global synergy through the Internet. The shout box can be installed in just seconds, and it can be used for varying purposes such as leisure and Internet marketing. It also allows a user to customize the size, color, and name of the widget.