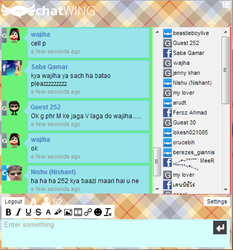 Houston, TX (PRWEB) September 09, 2013
Team bloggers are becoming more common in this year, according to the research team of Chatwing. To support the company's advancements in several online communities, the researchers are analyzing trends, topics, and the factors that make team bloggers tick. Chatwing Research Team has launched important team blogging tips that can make any blog or website stable and efficient.
"Team bloggers should be observant enough. In this way, they will be able to see the real interests of their web users and visitors." Shelly Miller said. She is the head researcher assigned to Chatwing's team blogging campaign. "Aside from that, each blogger-admin must be able to communicate effectively with the visitors. Responsibility is needed."
"No matter the niche, team bloggers should realize that visitors always demand attention. If the chat software web users are confused about a certain thing, one of the team bloggers should be able to lend a helping hand. Questions must be answered. Opinions must be queried. Think of the blog as a physical office." Ms. Miller added.
Chatwing and its chat app teams believe in the power of online communication. This is the reason why the company is launching multiple strategies to improve its unique chat box. Tips, freebies, and ideas will be offered in any of Chatwing's active blogs.
About Chatwing.com
Chatwing.com specializes in the new field of website chat software. Over years, the Chatwing team has introduced live chat widget for hundreds and thousands of blogs. The Chatwing application bridges people from many parts of the world, creating global synergy through the Internet. The shout box can be installed in just seconds, and it can be used for varying purposes such as leisure and Internet marketing. It also allows a user to customize the size, color, and name of the widget.