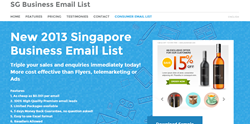 Adding email lists to a business's marketing program is a sure-fire investment to reach their potential audience
Singapore, Singapore (PRWEB) September 09, 2013
SG Business Email Lists.com announces its launch to provide Singapore businesses email marketing services. The company offers affordable and highly deliverable email lists and leads to third party vendors that will enhance a business's marketing efforts.
"We are pleased to offer these services to the Singapore area. We believe that businesses will greatly benefit from our services, creating profitable customer relationships through our marketing tools," said Andrew Chu of SG Business Email Lists.com.
For $0.001 an email list, SG Business Email Lists.com believes it is the most cost effective way to increase a marketer's message. The company limits each list addition to a maximum of 25 packages per list to enhance its customer's trust in their product. They also offer a 3-day money back guarantee to assure customer satisfaction.
"We understand that email marketing is one of the most powerful means for lead generation. We want to assure our customers that our lists are valuable and guaranteed to help their business grow," said Chu.
The company's reliable gathering techniques assure that each email list is highly competitive. Customers can choose from a variety of search selections or geographic information targeted to a specific audience for their needs.
"Adding email lists to a business's marketing program is a sure-fire investment to reach their potential audience. We can help by directing our customers to its target audience, which will save them time and money," said Chu.
Email marketing is a reliable way to gauge its effectiveness, as it provides instant feedback.
"If a business hasn't thought about using an email list as part of their marketing strategy they will miss the benefits. This type of marketing is different than social media in that a business will know who is receiving their message," says Chu.
As more and more businesses continually rely on email marketing lists for business growth, SG Business Email Lists.com stands at the forefront, providing an effective marketing tool to enhance relationship building and increased sales.
About SG Business Email List
SC Business Email Lists is an email marketing company, providing marketing services to the Singapore area. They supply highly competitive email address lists for businesses as a successful way to compliment a business's marketing campaign. They can be reached from their website at http://sg-business-email-lists.com.