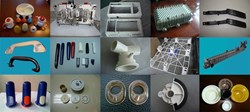 (PRWEB) September 07, 2013
Recently, Wuxi Glory Plastics has introduced its promotion of plastic blow molding services (http://www.plastics-molding.com/Blow_Molding.htm), as a continuation of its recent sale and new markdowns. The company is a popular industry leader in injection molding. Now, all the clients can get a discount, up to 29% off before Sept. 21, 2013.
Wuxi Glory Plastics offers a wide variety of high-quality plastic closures, plastic auto parts, EIFS washers, Silicone rubber parts and more for the customers worldiwde. Custom designs are available here in limited color options and quantities at an exceptional value. With its perfect customer service and fast delivery, the company allows anyone to purchase its designs and services with confidence.
"We are very excited to launch the special offer on plastic blow molding to make our service available to more clients worldwide. Our products and service have appeared at many indsutrial shows in the recent years, and we have received many positive comments from customers around the world," says, a spokesman for the company.
Taking influence from the past, Wuxi Glory Plastics is known for their high quality and fast delivery inspired by the new technologies. In order to supply their customers with latest gear, they are now selling the highly anticipated blow molding and injection molding.
About Wuxi Glory Plastics
Wuxi Glory Plastics is a China based company which was established in 1995. It has become one of the leading suppliers in the plastic industry in China. The core services offered by the company include blow molding and injection molding. Other than this, custom molded parts and various plastic parts are also supplied.
For more details about their products and services, please visit: http://www.plastics-molding.com