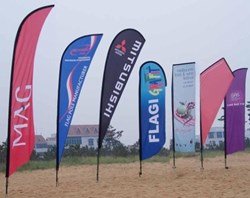 (PRWEB) September 07, 2013
CKFlag.com, a well-known China manufacturer of custom flags, has recently released its new custom backpack flags and custom outdoor banners (http://www.ckflag.com/cheap-custom-outdoor-banner-wholesale/). According to a sales manager of the company, these flags sell very well in the USA market; they are also offered at discounted prices, up to 39% off.
Ten years ago, CKFlag.com knew that the demand for custom flags are getting bigger and bigger. This company saw this as an ideal opportunity for providing custom backpack flags and custom outdoor banners for many companies. So, CKFlag.com has developed much energy and money on this project. With its unique customer service, CKFlag.com has become a leader in the custom flag industry.
"All our flags from CKFlag.com are made with delicate craftsmanship; they are digitally printed which results in excellent color matching and rich color contrasts, showing your faith and your love of the business. We are happy to launch the promotion. These flags are specially designed for the summer 2013," says, the CEO of the company.
In case customers are getting custom backpack flags and custom outdoor banners at discounted prices, more special offers with detailed information are also provided by the company. The promotional prices will depend on the number that customers book.
About CKFlag
Founded in 1995, CKFlag is a professional flag manufacturer from China, offering a full range of high-quality, low-price flag products and services. Its customers come from many countries all over the world. The company aims to offer its customers more choices with affordable prices, and they accept customer's own designs as well.
For more information, please visit: http://www.ckflag.com/cheap-custom-backpack-flags-wholesale/