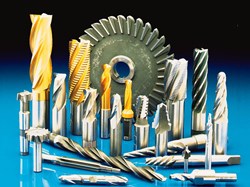 "Our Five Star Tools allow us to run our carbide end mils at higher speeds and they still last longer than our new bits."
Rochester, NY (PRWEB) September 11, 2013
Five Star Tool, has built a reputation for making exceptional custom CNC carbide cutting tools and is now saving manufacturing companies thousands by re-sharpening their used cutting tools. Utilizing cutting edge software and carbide coatings, Five Star Tool is now able to increase the life expectancy of standard tungsten carbide cutting tools by 5 times over the original manufacturer recommendations. This Five Star Tool's Edgemaster resharpening program is designed to provide CNC manufacturing companies an "Edge" over their competition.
Traditional CNC manufacturing companies typically dispose of used worn out cutting tools costing them hundreds of dollars to replace. The innovative recycling process is designed to handle all types of cutting tools including Profile Cutters - Ball End Mills - Carbide End Mills - Variable Lead/Helix End Mills Center Drills – Centers - Corner Rounding End Mills – Counterbores - Countersinks Key Cutters - Milling Centers - Taper Shank Drills - Roughing End Mills - Saws Carbide/HSS - Spade Blades - Spade Drills - Spot Drills - Step Drills - Taper Ball End Mills - Taper End Mills - H.S.S. End Mills Crest Cut End Mills. Recycling these used cutting tools is now helping manufacturing companies save over 60% in their manufacturing process.
Once the tools arrive to the Rochester, NY recycling center they are sorted, processed and labeled. They are then returned to the customer in specially designed foam containers after passing a carefully inspection. Remarkably, this complete process is guaranteed to be completed within 10 days from arrival.
Five Star Tool is a privately-held, certified leader distributing solid carbide cutting tools throughout the United State for the aerospace, medical, and automotive industries. For more information or to get in touch with a representative, contact Five Star Tool at (585) 328-9580 or visit the company website at http://www.fivestartool.com to learn more.