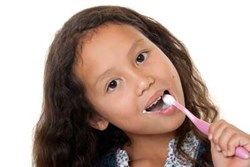 Beaumont, TX (PRWEB) September 08, 2013
September is recognized as National Hispanic Heritage Month to celebrate the contributions made and the important presence of Hispanic and Latino Americans to the United States and celebrate the group's heritage and culture. The U.S. Census Bureau reports show that between 2000 and 2010, the Hispanic population grew by 43 percent, and more than half of the growth in the total population of the United States between 2000 and 2010 was due to the increase in the Hispanic population.
A new oral health survey of U.S. Hispanics shows that patients in this growing population group want more information on good oral health habits, access to affordable care and dental insurance, and more dental health care professionals who are Hispanic or who speak Spanish.
Among the findings:

Almost one-third of Hispanics (30 percent) responded that they thought cavities will go away on their own through regular tooth brushing. About half or more of respondents also had misperceptions about the importance of brushing versus flossing, whether bleeding is normal during brushing and if mouthwash provides oral health benefits beyond just freshening breath.
Nearly half (45 percent) of Hispanics lack dental insurance and nearly one in five (18 percent) have not visited the dentist at all in the past two years, compared to 12 percent of the general population.
About six in 10 Hispanics feel that having Spanish-speaking and Hispanic dentists/hygienists in their community would help them "a lot" in achieving and maintaining better oral health.
Sixty-five percent of Hispanics said they experienced at least one oral health issue in the past year versus 53 percent of the general population. For more than one-third of Hispanics (36 percent), oral health problems experienced in the past year were severe enough to impact their daily activities, compared to 22 percent of the general population.
Among Hispanic parents, many of these same knowledge gaps exist, as does the desire for more oral health information. Yet, eight in 10 Hispanic parents (82 percent) consider themselves an excellent or a good source for teaching their children about oral health habits.
The full survey report, "Hispanics Open Up About Oral Health Care," is available at http://www.dentalcare.com.
"We try to educate our team about the needs of Hispanic patients," says Dr. Ashley DeMarco of Gulfside Dental. "We need to be aware of the language and cultural barriers and reach out outside the dental office to friends, family members and neighbors with information that can help patients with limited oral health knowledge." The team from Gulfside Dental will be attending Fiesta on September 14th at the Bob Bowers Civic Center in Port Arthur, Texas. Fiesta is an annual event Texas presented by the Mexican Heritage Society to celebrate Mexican Independence from Spain. "We are excited about participating at Fiesta this year because it gives us a chance to connect to the Hispanic population in Southeast Texas and answer their individual dental health questions," says Dr. DeMarco.
Gulfside Dental offers a comprehensive oral health program, including preventative, cosmetic and reconstructive dentistry for all ages as young as six months old. Gulfside Dental also specializes in: bridges and implants, extractions, dentures and partials, braces, emergency dental care, Snap-On Smile, LUMINEERS, and ZOOM whitening. Gulfside Dental accepts all major PPO insurances, most HMO Insurances, Medicaid, CHIPS, Texan Plus, HealthSpring, Care Credit, Visa, Mastercard, and Discover. Gulfside Dental is located at 4179 Dowlen Road in Beaumont, in the Barnes and Noble shopping center, across from Parkdale Mall. For appointments, please call 409-899-4867.