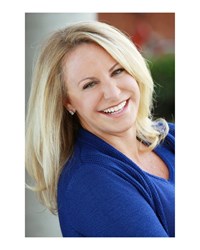 "I'm honored to be asked back to perform at The Comedy Store and I love making people laugh.
Beverly Hills, CA (PRWEB) September 09, 2013
Karen Zaxton returned to The Comedy Store on September 4, 2013 to perform her hilarious comedy based on being middle-aged. Zaxton recently realized she hit middle age and is desperately clawing to youth. Karen Zaxton may not be aging gracefully but she vows not to go down without a fight. Can you hear finger nails scratching as she slides down the wall into the abyss of dementia and Depends? As memory loss kicks in, Karen does her best to remember her jokes about hitting menopause, sagging skin, lack of vaginal muscle control, kids, dating as a cougar, and being "cool" (do they still use that term?) while trying not to break for a bathroom run as her vaginal muscles fail her.
Her mostly clean (or entirely clean if the venue prefers), lighthearted comedy warns younger generations about what is to come and is highly relatable by both middle aged men and women alike as they identify with Karen's trials and tribulations of getting older.
Zaxton's humor delighted the audience. Her routines included "7 Month Itch," "The Budget Facelift," "Menopause," Mood Ring," "Bald Men" and more.
"I'm honored to be asked back to perform at the prestigious Comedy Store in Hollywood and I love being on stage and making people laugh. But it's hard work to constantly seduce laughter from an audience even for just a few minutes" says Zaxton.
Karen Zaxton is an entrepreneurial evangelist and has enjoyed a lucrative speaking career over the last 13 years. Hanover has performed on stage hundreds of times and has also starred in several television commercials, been a contestant on a game show and acted in numerous theater productions. Zaxton's stage talents include acting, comedy and hosting.
"I'm not much of a dancer except ballroom dancing and I tend to have 2 left feet" says Zaxton.
Zaxton has moved into TV, both producing and hosting her own syndicated talk show, as well as an entertainment news show. She is also the Executive Producer of a Saturday morning kids show, Gourmaniac – a cooking show and even a travel show.
"I love the live audience and being in front of the camera but now I want to be behind the camera where I can call the shots and control my own destiny."
Check out Karen Zaxton's comedy performance schedule at http://www.karenzaxton.com.