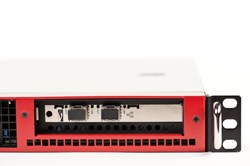 Fullerton, CA (PRWEB) September 07, 2013
Milton Security Group Inc., the premier manufacturer of adaptive network security appliances, NAC and network management solutions, is proudly announcing their sponsorship for 2013 DerbyCon 3.0.
"We are excited to be sponsoring DerbyCon 3.0 this year," said CEO Jim McMurry.
"Unlike the larger information security conferences, we feel DerbyCon provides a more informal setting that allows people to feel relaxed in sharing and discussing ideas."
DerbyCon 3.0 is a five-day security conference, taking place from Wednesday, September 25th through Saturday the 29th. The conference is being held in Louisville, Kentucky and is in its third year. DerbyCon features an impressive array of speakers from every facet of the security industry.
"Our passion is to help organizations to secure their networks and increase their knowledge about how they can protect their resources from expensive security breaches. We are excited and honored to be sponsors of this event," said McMurry.
About DerbyCon 3.0:
DerbyCon 3.0 is a premier information/security conference, combining the most desirable elements from other information/security conferences into a single destination. DerbyCon's primary focus is to be a single, familiar conference that attendees can call home. Visit http://www.derbycon.com for more details.
About Milton Security Group, Inc:
Milton Security Group is the Bring Your Own Device enabler for your organization.
Our product lineup enables granular control over all devices on your network.
We offer the first low-cost, adaptive, inline network security suite of products, including the Edge7200, which is an adaptive network access control appliance.
Milton Security Group has helped secure the internal network systems and endpoints of many small and mid-sized corporations and organizations ranging from Federal/State Agencies, Cities, Counties, Universities, and Hospitals.
Visit http://www.MiltonSecurity.com for information or call 1.888.674.9001.