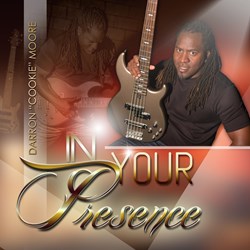 It feels awesome living my dream. I love being in a position to share my music with jazz and music lovers worldwide. I'm honored, to share this platform with such great artists. ~ Darron "Cookie" Moore
(PRWEB) September 09, 2013
A native of Detroit, Michigan, Darron "Cookie" began his musical journey at the early age of twelve being reared listening to and being influenced by some of the greatest blues, R&B and gospel artists in Motown and music.
A significant part of his musical background stems from his studies at Grambling State University and Wayne State University.  He considered himself a self-taught musician until he garnered the generous help of his bass teachers/mentors, Kerry Lacey and Lamont Johnson, who taught him music articulation inspiring Darron "Cookie" to produce and release his first solo project entitled "Nothing Else To Say".
"It feels awesome living my dream. I love being in a position to share my music with jazz and music lovers worldwide. I'm honored, to share this platform with such great artists. Looking forward to our future together, thanks to Jaijai and The Jazz Network Worldwide," says Moore.
"Cookie" has released four albums in his music catalogue to date:  "Nothing Else to Say" (2002), "Bass-is Loaded" (2003), "At Peace" (2005) and "A New Love" (2010).  All music from the aforementioned projects were written and arranged by Darron "Cookie". 
His latest release "In Your Presence" is the first single and the title track off of his upcoming CD project.  Moore claims that "In Your Presence" is bound to take his fans on a gratifying musical journey within.
"The Jazz Network Worldwide is pleased to share in the promotion of Darron's new release "In Your Presence". He has a signature sound and heart for the music he pours into the music world. You can feel it in his playing and in the fervor and excitement he shares to have it be heard worldwide" says Jaijai Jackson, creator and owner of The Jazz Network Worldwide social network.
Bassist Victor Wooten's encouraging words to "Cookie" were "Keep doin' what you're doin', you are on the right track" which inspired him to do just that.
Darron "Cookie" has played for numerous concerts and churches in the Detroit Metropolitan and Indiana area.  He is currently the bassist for Summit Ministries International and served as their Music Director from (2006-2007). 
His recent recordings were heard on Marvin Jordan's "Future X" project entitled "Higher Ground" (2012) and Summit Ministries International's Praise and Worship project, "Going In", slated for release in the fall of 2013. 
Moore credits his unique sound to his sponsors/endorsers C. Henry Steel http://www.chenrysteel.com, Cookie Cottage http://www.cookiecottage.com and YAMAHA, Gallien Kruger, U.S. Music Corp., S.I.T Strings and Sound Technologies.
Darron "Cookie" is a husband and father currently working on projects and playing locally in Fort Wayne, Indiana and regionally around the Indianapolis and Detroit area.
You can stay connected to the latest updates from Darron "Cookie" Moore on Facebook https://m.facebook.com/cooknnation and Twitter @CooknNation.  Be sure to catch a solo or two on youtube at https://www.youtube.com/watch?v=ZSjy4PzoUCo&feature=youtube_gdata_player. To purchase go to: https://itunes.apple.com/us/album/in-your-presence-single/id692973852
For bookings, concerts, lessons, seminars, etc., please call Darron "Cookie" Moore at 260-580-9370 or email dcookiem(at)gmail(dot)com.
Moore's feature can be seen at http://www.thejazznetworkworldwide.com starting September 9-15, 2013.
##