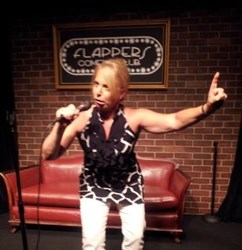 It's the ultimate rush. I love performing for a live audience more than I enjoy being on camera.
Beverly Hills, CA (PRWEB) September 11, 2013
Comedian Karen Zaxton took the stage at Flapper's in Burbank, CA for the "First-timer Funnies." This Pro/Am show featured a mix of first timers, amateur and professional comedians on one of the biggest, most prestigious stages in Los Angeles.
Karen Zaxton is not exactly a first-timer having performed at the famous Hollywood Improv and The Comedy Store on the Sunset Strip on multiple occasions. In fact Zaxton is becoming quite the regular on the comedy scene having booked four comedy performances in the month of September alone.
Zaxton brought the audience to tears with routines such as "Menopause," "The Ultimate Facelift," "7 Month Itch," "Bald Men" and "Mood Ring." Audience members roared with laughter as they identified with Zaxton's trials and tribulations about being middle aged and desperately trying to hold on to her youth.
Zaxton delivered her performance among veteran comedians including Ebonee Hall, Galen Beers, Hasan Minhaj, Hugh Moore, Jorge Riverol, Kevin Madison, Liz Shihadeh, Markis Garcia, Shannon Gettins (Emcee), Spencer Richards, Tone Bell, Trevor James, and Zak Wolf.
Karen Zaxton performed her hilarious comedy based about being middle-aged. Zaxton recently realized she hit middle age and fears she will grow out of it. As memory loss kicks in, Karen does her best to remember her jokes about hitting menopause, sagging skin, lack of vaginal muscle control, kids, dating, and being "cool" (do they still use that term?) while trying not to break for a bathroom run as her vaginal muscles fail her.
Her mostly clean (or entirely clean if the venue prefers), lighthearted comedy warns younger generations about what is to come and is highly relateable by middle aged men and women alike as they identify with Karen's trials and tribulations of getting older.
"It's the ultimate rush. I love performing for a live audience so much more than I enjoy being on camera," said Zaxton. "Despite my hundreds of hours on stage throughout my life, I broke out in a major, nervous sweat the first few times I did comedy because it's very personal."
But camera time seems to be in Zaxton's future. Zaxton has moved into TV, both producing and hosting an entertainment news show. Zaxton's self-produced talk show is in first round syndication. She is also the Executive Producer of a Saturday morning kids show, Gourmaniac – a cooking show and even a travel show.
Karen Zaxton is an entrepreneurial evangelist and has enjoyed a lucrative speaking career over the last 13 years. Zaxton has performed on stage hundreds of times and has also starred in several television commercials, been a contestant on a game show and acted in numerous theater productions. Zaxton's stage talents include acting, comedy and singing.
"Yeah, I've been extremely busy but I will continue doing stand-up comedy," says Zaxton. "I look forward to performing across the country in the very near future." Check out Zaxton's performance schedule on the official Karen Zaxton Facebook page.