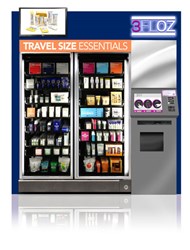 Air Repair products will be showcased inside the 3FLOZ kiosks at major airports
San Francisco, CA (PRWEB) September 10, 2013
Air Repair® Skincare, the only system on the market developed to specifically combat the effects of flight fatigue and environmental changes due to travel, is thrilled to announce their launch with 3FLOZ's airport kiosks. Air Repair® is among the initial brands to team up with retail partner 3FLOZ.com, the premiere destination for savvy travelers looking for their favorite products in TSA-friendly size. Both brands' distinct focus on offering discerning travelers convenient and efficacious products make the apparent partnership an immediate success.
Created in collaboration with ZoomSystems – the company behind automated self-service retail stores from Best Buy, Apple and Proactiv – the 3FLOZ airport kiosks will dispense travel-sized skincare essentials from high-end and niche labels. The products offered, selected personally by 3FLOZ co-founders, Kate Duff and Alexi Mintz, will include an edited assortment of must-haves and novelty items.
Air Repair will be available in two exclusive kits: Air Repair Skincare Kit ($42) – featuring five essentials to treat the skin concerns of travelers: dryness, dehydration, redness, dullness and irritation; and Air Repair Complexion Quenching Facial Mist & Rescue Balm Duo ($22) – a best-selling spray-on moisturizer and cult-favorite multi-purpose skin salve that provide instant relief to irritated and dehydrated skin. The kiosks will also feature 3FLOZ's popular curated travel kits, which include cult-favorites from various brands. Air Repair Rescue Balm will be included in both the Jet Lag ($60) and In a Clutch ($54) kits.
Air Repair Founder & CEO, Denise Spanek, says the company is "very excited to have our brand showcased inside the 3FLOZ kiosks. We highly value our relationship with 3FLOZ and look forward to continuing to grow together in this new endeavor. These kiosks will offer Air Repair a unique platform to reach our target customers directly at their point of travel."
"Alexi and I are thrilled to be launching 3FLOZ airport kiosks with Air Repair in the mix," says 3FLOZ co-founder, Kate Duff. " We both love and personally use the line daily. The brand's cult-favorite, Rescue Balm, is an essential for every traveler, so we've included it in two of our curated kits as well."
The kiosks will debut beginning in August 2013 at 25 domestic airports including John F. Kennedy (NY), Dallas/Fort Worth (TX), McCarran (Las Vegas, NV) and St. Paul (MN).
ABOUT AIR REPAIR: Air Repair was created by renowned skincare expert and savvy traveler, Denise Spanek, specifically to combat environmental stresses that affect the health of the skin including travel and flight fatigue. Each of the five naturally inspired products contain a ground-breaking combination of ingredients to help heal chronic inflammation which can cause pre-mature aging. For more info visit airrepairskincare.com.
ABOUT 3FLOZ: Frequent travelers Kate Duff and Alexi Mintz conceptualized 3FLOZ in 2009 when they got tired of either arriving at the airport 2 hours early to check a bag, or running around town trying to find all their favorite products in TSA-friendly sizes. In three years the site has grown immensely through social media, press attention and strategic partnerships with virtually no paid advertising. For more info visit 3FLOZ.com.