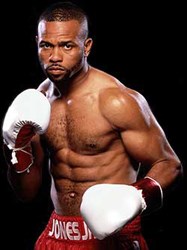 We are pleased to be associated with Roy because of his genuine love for people, say Vanzil Burke, President / CEO, Burke Management Firm.
Los Angeles, California (PRWEB) September 10, 2013
Boxing great Roy Jones, Jr. was recently honored by the city of Columbus, Georgia with a proclamation and a key to the city. Said Greg Countryman, Marshal of Muscogee County, Georgia, Jones was recognized not only because he had done impressive things while inside the ring, but also because of the great works he performed throughout many communities across the United States.
"Roy Jones is an inspiration to many," said Countryman. "He makes time for the least, the lost, and the last. When he enters the ring, Roy Jones is the marshal. He takes command and carries out his duties." Jones was accompanied by Burke Management's Vice President, Victor Burke.
In recognition for Jones's good deeds, Countryman granted the boxer his personal lapel badge—a medal worn previously only by the marshal himself. "Words of gratitude just aren't enough," said Countryman.
The Office of the Mayor also honored the boxing great with a proclamation and a key to the City of Columbus, Georgia. Solicitor General Ben Richardson presented the key and proclamation.
Jones is managed by The Burke Management Firm, a Los Angeles-based entertainment company.
About The Burke Management Firm
The Burke Management Firm is a Los Angeles-based entertainment management company that provides a comprehensive service to celebrity talent including but not limited to actors, comedians, reality TV stars, athletes, musicians, and models as well as authors. Since its inception in 2007, the firm has managed notables such as Roy Jones, Jr., Basketball Wives LA star Jackie Christie, Todd Bridges, Michael Coylar, OWN's Six Little McGhees as well as WWE superstars Titus O'Neil and Darren Young. Founded by Vanzil . Burke, the firm provides incomparable management services to all its clients. The Burke Management team is strategically located in Los Angeles, California; Atlanta, Georgia; and Orlando, Florida.