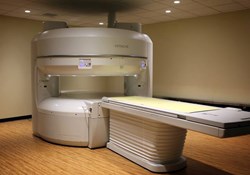 Newport News, VA (PRWEB) September 09, 2013
Patients in Southeast Virginia in need of an MRI should no longer fear feeling claustrophobic or uncomfortable during this diagnostic procedure.
This month, the Newport News, Va.-based Orthopaedic & Spine Center (OSC) opened its new 1.2T (Tesla) Magnetic Resonance Imaging (MRI) scanner to the public, making it the most powerful Open MRI on the Virginia Peninsula.
With double the power of any Open MRI on the VIrginia Peninsula, the new Hitachi OASIS Open MRI Scanner provides images with "an astounding level of detail and clarity," according to OSC.
This clarity provides physicians with the accuracy needed to make a more accurate diagnosis and might reveal a previously missed diagnosis made from other, less powerful MRI scanner images.
The new scanner's benefits include, among others:

Enhanced image quality.
Patient comfort, with open views and interior lighting.
Accommodates claustrophobic, large (up to 660 pounds) and anxious patients.
Offers motion-compensated sequencing for patients who have tremors or cannot stay still for long periods of time. This is especially key for patients with diseases such as Parkinson's or Alzheimer's or those who cannot stay still for long periods of time due to Restless Leg Syndrome or from pain lying in one position.
Faster scanning for patient comfort.
Can study Orthopaedic (muscle, tendon, joint), Vascular, Dental, Brain, Abdominal and Renal MRA.
The OSC MRI Center is staffed by certified and licensed radiological technologists and supervised by board–certified orthopedic surgeons and radiologists.
About Magnetic Resonance Imaging:
MRI is a method used by physicians to look inside the human body to obtain diagnostic information. Incorporating an advanced technology, an MRI scan produces images of the anatomy to help physicians properly diagnose their patients' conditions.
How does it work? It utilizes the physical properties of magnetic fields, radio waves, and computers to generate images of the soft tissues within the body in any plane. This technique is now commonly used as a primary diagnostic tool.
It can help provide a quick and more accurate diagnosis for your physician.
It can also reduce the need for exploratory surgery and other diagnostic procedures which might have associated risk.
An MRI scan is a noninvasive procedure, and there are no known side or after effects.
About Orthopaedic & Spine Center:
Orthopaedic & Spine Center (OSC) is located at 250 Nat Turner Boulevard in Newport News, VA.
OSC strives to provide the very best orthopaedic care available anywhere. This includes a comfortable, well equipped medical office, pleasant and well trained personnel, physicians dedicated to up-to-date orthopaedic techniques, and old fashioned patient care.
Located at 250 Nat Turner Boulevard, Newport News, VA, OSC is a full service state-of-the-art orthopaedic office with a large comfortable waiting room, twenty four patient exam rooms, three fully equipped x-ray suites with fluoroscopy, a Lunar DPX Bone Densitometer Room, an Open Magnetic Resonance Imaging (MRI) Center, and Physical Therapy.
For an appointment, call 757.596.1900, and for more information on the practice and its physicians, visit http://www.osc-ortho.com.
OSC physicians are available to discuss the new Hitachi Oasis MRI. Please contact Shannon Woods, OSC Director of Marketing, at 757.596.1444 ext. 368 or swoods(at)osc-ortho(dot)com to schedule an interview.