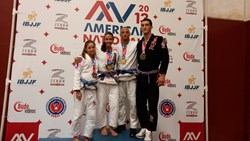 "The US Nationals is a tradition for Team Third Law, I am happy see everybody putting in a good performance."

- Roberto Torralbas
Naples, FL (PRWEB) September 08, 2013
Naples BJJ school Third Law sent four competitors to US Nationals, and after the first day of the two-day tournament, already has 8 medals to bring home.
Coaches Joseph Formica and Katy Torralbas were crowned US National Champion in their blue and purple belt open weight classes, and the other Naples BJJ competitors Coach Joseph Ruggiero and Rachel Ranshau also placed in both their weight classes and absolutes.
"The US Nationals is a tradition for Team Third Law, I am happy see everybody putting in a good performance," said Roberto Torralbas, head instructor of the Naples BJJ team. He himself has won the tournament many times as well.
Coach Joseph Formica won four fights for silver in his blue belt middleweight division, submitting two opponents and winning the other two matches by points. In the open weight the Naples BJJ coach won four fights, avenging his loss in the middleweight finals and making his way to the top of the podium.
Coach Katy Torralbas won gold in the purple female absolute, defeating three opponents. It is her second gold at US Nationals in the gi, she won her division last year at blue.
Coach Joseph Ruggiero won two fights for bronze in his purple belt middleweight division. In the purple male open the Naples BJJ competitor won one fight for bronze.
Rachel Ranshau, blue belt featherweight, won one fight for silver in her division and two fights for silver in the open weight class.
Tomorrow the Naples BJJ athletes are back on the mats competing in the No Gi US Nationals. Check the team's Facebook page for results.
If you're not yet a student but are interested in learning Brazilian Jiu Jitsu, Muay Thai Kickboxing, Judo, Wrestling and more, check out the Naples BJJ school's website at http://www.teamthirdlaw.com Or, call 239-628-3LAW (3529) and ask to get started with your 30 Day Free Trial.