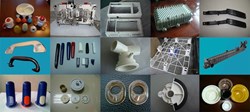 (PRWEB) September 08, 2013
Wuxi Glory Plastics is well-known for its plastic blow molding services (http://www.plastics-molding.com/Blow_Molding.htm), which are widely applied in many industries like food equipment, automotive, electronics, construction, defense and more. Recently, the company has introduced its plastic blow molding promotion, up to 29% off.
According to the CEO of the company, the special offer is valid before Sept. 21, 2013, and all the clients can enjoy the current benefits. More details can be accessed at http://www.plastics-molding.com/Blow_Molding.htm.
Offering different high-quality plastic closures, plastic auto parts, EIFS washers, Silicone rubber parts and more, Wuxi Glory Plastics has a big customer base worldwide. Its most recent project is one that could be quite profitable; in this project, the company has done 1 million OEM plastic auto parts for a big auto company. With its nice customer service and fast shipment, Wuxi Glory Plastics allows anyone to purchase its products and services with confidence.
Its updated website also provides consumers with the up-to-date plastic injection molding news and information on the newest events in the industry, including plastic auto parts, EIFS fasteners, plastic tools and awesome discounts.
About Wuxi Glory Plastics
Wuxi Glory Plastics is a China based company which was established in 1995. It has become one of the leading suppliers in the plastic industry in China. The core services offered by the company include blow molding and injection molding. Other than this, custom molded parts and various plastic parts are also supplied.
For more details about their products and services, please visit: http://www.plastics-molding.com.