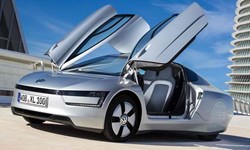 "The car [VW XL1] is more a lighthouse than a business model," VW's Ulrich Hackenberg told Wirtschafts Woche
(PRWEB) September 13, 2013
Car Finder Service customers demand up-to-date information on future car purchases. To this end the company has published its weekly round-up of new model releases.
Summary and highlights from this week's Sneak Peak

Toyota to launch next-gen Prius by 2015
Toyota to launch the FCV-R, a hydrogen car by 2015
Toyota working on the Yaris Hybrid-R Concept
GM opens the possibility of a Chevy Corvette Hybrid
Chevy to concretely release the 2014 Malibu with an Eco Hybrid option
Detroit Electric moves its production to Holland
To prove its claim as the one of the pioneers in mass hybrid technology, Toyota said that the company will be launching the next-gen Prius and the FCV-R hydrogen car by 2015. The Japanese carmaker also confirmed that the Yaris Hybrid-R Concept is also in the works.
Given such moves from Toyota, GM confirmed that it is open with the idea of a Chevy Corvette Hybrid and plans to concretely release its 2014 Malibu with an Eco Hybrid Option.
Detroit Electric on the other hand, which is a new American company that has more concrete plans in producing a high performance electric sports car decided to start its quest by moving the production of the SP:01 to Holland.
As the race towards more hybrid and electric car model goes on, some photos and a video of BMW's i8 hybrid sports car leaked while Nissan on the other end revealed that it has rounded a new corner with the 2014 Pathfinder Hybrid.
Finally, Volkswagen has also hinted that the company has that it will only build about 250 units of limited edition VW XL1.
See the full roundup for more on Industry Gets Serious About Hybrids & Hydrogen.
ABOUT CAR FINDER SERVICE
http://CarFinderService.com is an automotive website committed to helping car buyers search for the best brands of new and used car models. Educating consumers about the auto industry, auto maintenance and the car purchasing process since 2001, Car Finder Service provides the most up-to-date local pricing, specs, and feature information for all popular car models sold in North America.
Car Finder Service also helps consumers with the latest vehicle financing and insurance opportunities at competitive rates in partnership with an extended network of car dealers and vehicle financing & insurance providers throughout the US.