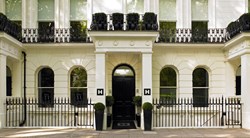 900 lots of fantastic designer furniture fixtures and fittings are on offer for sale.
London (PRWEB) September 09, 2013
This week sees the final chapter following the closure of the iconic Hempel Hotel, when auctioneers Pro Auction Ltd sell the chattels under the hammer.
This hip London hotel was famous for its A-list celebrity guests and was a favourite of the likes of David and Victoria Beckham, Michael Jackson and a plethora of actresses and musicians including Sienna Miller, Perez Hilton and guitarist for the Rolling Stones Ronnie Woods.
Following its acquisition for £33m earlier this year, British Land and Amazon Properties will convert the former hotel into 18 luxury apartments.
As a result, there is now the rare opportunity to purchase every item of furniture, fitments and furnishings from the 43-bedroom hotel and suites including a plethora of Palecek furniture, Hypnos beds, flat screen TVs and bathroom suites along with a wide selection of antique Chinese furniture and ceramics which graced the hotel's foyer which are all up for grabs.
Once the domain of celebrity chef Raymond Blanc, all the contents of the commercial kitchen are to be sold, including the commercial catering equipment, cookers, refrigerators and tabling plus a full range of tableware, cutlery and glasses.
The Hempel was frequently used for fashion shoots, while its gardens notably featured in the film Notting Hill as the location for the wedding between two characters played by Hugh Grant and Julia Roberts, even the contents of the gardens will be offered up for bidding.
The sale will be conducted live from the hotel and webcast online through http://www.i-bidder.com at 10.30am on 12 September by Pro-Auction, following two open preview days on 10 and 11 September from 10am to 6pm.
Interested bidders, both trade and public are invited to the open viewing days at The Hempel Hotel. 31-35 Craven Hill Gardens, London, W2 3EA and on the morning of sale from 8am.
Further details and catalogues can be obtained by contacting Pro Auction on +44 (0)1761 414000 or by visiting the website at http://www.proauction.com
Pro Auction are one of Europe's leading specialist auctioneers and valuers within the catering & hospitality and food processing sector, with sales conducted throughout the UK and Europe, previous hotel auctions have included The Howard Hotel, Dolphin Square, Doyle Collection, Savoy and The Westbury.