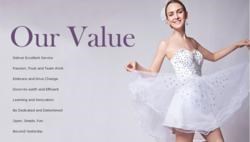 (PRWEB) September 08, 2013
DressyProm.com, the well-known wedding dress manufacturer and retailer, has recently released its new collection of 2014 Quinceanera dresses (http://www.dressyprom.com/best_all), and announced a special offer on these new dresses, which now are offered with great discounts, up to 60% off.
A designer of the company says, "Our new Quinceanera dresses are designed specifically to satisfy the increasing needs in the international market. The designs look gorgeous against every skin tone and shows off the complexion beautifully. We are very happy to create more new dresses for our clients."
When talking about these new designs, the CEO of the company says, "These dresses comes in many different designs, and they are some of the most beautiful works of art in the world. They are featured with tartan, stripes, polka dots, floral patterns, and solid colors. Purchasing the right Quinceanera dresses can be a very sound investment."
As a leader in the industry, DressyProm.com specializes in manufacturing premium quality trendy designs for its clients worldwide. Its goal is not only premium quality trendy dresses, but also 100% customer satisfaction. With that in mind, DressyProm.com offers all its outfits at reasonable prices.
In addition, DressyProm.com has recently announced its release of a new women`s clothing line, which features a great selection of trendy skirts, dresses, shorts, and tank tops. The company is offering thousands of different women's dresses (first communion dresses, Quinceanera dresses, etc.) on its website.
About DressyProm.com
DressyProm.com is one of the world's leading wedding dress manufactures and retailers, offering a lot of cheap plus size prom dresses, slim fit prom dresses, wedding dresses, bridesmaid dresses, evening dresses, cocktail dresses, and more. The company aims to deliver ladies worldwide all kinds of dresses at acceptable prices.
More information can be found at: http://www.dressyprom.com