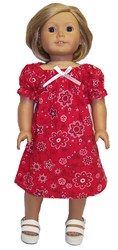 Both the doll dress and shoes are very versatile as they fit all the most popular dolls.
Tolland, CT (PRWEB) September 09, 2013
Just in time for the start of a new school year, the featured September giveaway at Doll Clothes Superstore is a traditional red, cotton print dress. The print is well known in the fashion world as it has been used in the making of blouses, skirts, dresses and bandanas. Even some sporty looking dogs have been seen wearing accessories made of this red, white and blue print. The dress features a gathered, elastic neckline and short puff sleeves. The center front of the dress is trimmed with a white satin ribbon. The dolls' dress comes with a pair of white, platform sandals.
According to Mary Ann Walsh, president of Doll Clothes Superstore.com, "Both the doll dress and shoes are very versatile as they fit all the most popular dolls. "Both pieces will fit the very popular American Girl Doll, and all other 18 inch dolls, such as Journey Girl dolls, Our Generation and Maplelea. They also fit baby dolls in the 15-16 inch size category and Cabbage Patch Kid dolls as well.
To participate in this September free monthly giveaway of doll clothing and doll shoes, customers can go to the home page of Doll Clothes Superstore, signup with their name and email address and submit it. There are no purchases, no hidden charges, no age limit required to sign up for a chance to win. The signup for the monthly giveaway will be open till the end of September. On September 30, a random winner will be chosen and the dress and sandals will be shipped to the winner.
Doll Clothes Superstore is an online-based doll clothing company, committed to providing top quality merchandise at affordable prices. Doll Clothes Superstore has doll clothes for the most popular brands of dolls on the market, like Barbie and Ken, GI Joe, American Girl dolls, baby dolls, including Bitty Baby, My Twinn and Cabbage Patch Kid dolls, Beanie Babies, and stuffed animals. In addition to this, Doll Clothes Superstore also offers doll accessories such as shoes, jewelry, hair clips, umbrellas, and hangers, and matching girl and doll clothes. Doll Clothes Superstore is independently owned and not affiliated with any doll manufacturer. Not only are prices reasonable, but all clothes come with an unconditional guarantee. Visit dollclothessuperstore.com.