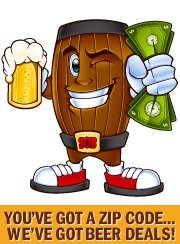 Consumers demand a deal, and shopping for beer is no different.
Houston, TX (PRWEB) September 11, 2013
Houston based SaveOnBrew.Com announced the release of 'Beer Alerts,' a new feature designed to deliver beer deals to your inbox.
"We've been working on this for about a year now, and really think that this will change the way people shop for beer," says Founder Mark Davidson. "We like to think of ourselves as the United Nations of Beer, we don't take sides, we're total ambivalent in the craft versus macro wars, we just want to deliver great beer deals to the masses."
The Beer Alerts feature sits alongside the desktop application, the mobile web site, and the native mobile applications as yet another way to keep the beer consumer informed and on top of their purchases.
"Consumers demand a deal," said Davidson. "And shopping for beer is no different. At SaveOnBrew, we see beer deals from all over the country and can say unequivocally that price shopping beer can save some serious money."
Setting up a beer alert is simple. Consumers create an account, pick the day of the week they want to receive the alert, and then pick their five favorite beers. When that beer goes on special near their zip code, the system sends them an email.
SaveOnBrew writer Jennn Fusion explains how beer alerts worked for her: "I told the system to tell us if our favorite beer, Sierra Nevada, went on sale within 5 miles of our zip code. The very next day, we received an email that it was on sale at a store we generally didn't shop at, but was very convenient. We ended up saving four dollars over what we usually pay!"
"Our goal is to become all things beer. Yeah, we know, that's not the best mission statement. But it's the truth. We empower consumers with pricing information, and publish a daily blog on consumer-related beer news. Right now, we think we are the number one destination for beer lovers," Davidson concluded.
# # #
About SaveOnBrew.Com: Founded in 2010 to help thirsty beer drinkers across the United States find the lowest advertised prices for one of the world's most popular beverages.