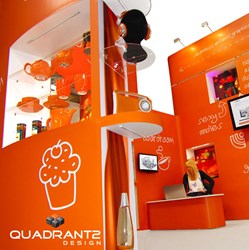 We love talking to people about how good the Prestige system is. We're excited about using YouTube to reach a whole new audience and to allow our customers to see for themselves just how good Prestige
Poole, Dorset (PRWEB UK) 11 September 2013
Quadrant2Design, the Poole based exhibition design company, has launched an exciting new YouTube channel that visually represent the unique benefits of using the Prestige Events System as a 'multi-purpose' modular exhibition and display solution.
The channel contains videos, many of them introduced by Design Director Chloe Anderton, that vividly illustrate the easy-build and modular characteristics of the system.
The Prestige Events System is unique in being both a flexible and modular exhibition system; is capable of being reconfigured into multiple stand configurations to suit the rapidly changing requirements of customers. For instance, the Prestige system can be used for a press conference, then re-configured for a product launch, roadshow or exhibition stand. Prestige is also easy to self-build, removing the cost of contractor-led exhibitions. No other exhibition solution offers this degree of versatility; the ability to adapt for different uses and different spaces.
Quadrant2Design has previously invited potential customers to view how flexible and easy to install the Prestige Events System is by visiting the 'pre-build' area and showroom - which is the largest of its kind in the UK! However, in launching the new YouTube channel customers from further afield, or with busy schedules, can now easily view the benefits of the system via social media.
Quadrant2Design also hope the use of YouTube will reach an entirely new set of people, who are currently unaware of the industry's leading modular exhibition system.
The videos uploaded by the team will mostly be about the Prestige Events System itself, the benefits of it, how it works and why it is so good! Chloe Anderton, Design Director At Quadrant2Design, has taken the lead on presenting many of the videos, and as an expert on the system, she is well placed to take on this task.
Of particular interest are stop motion videos of the installation team assembling various Prestige exhibition stands in around an hour from start to finish - demonstrating why the system is the industry leader in self-build exhibition systems!
The site also contains videos of company news, for example the 500 banners produced for the Guide Dogs for the Blind Association, as well as the team in action at Marketing Week Live.
Quadrant2Design plan to soon expand the channel by shooting a series of training videos to demonstrate how easy Prestige is to set up, so that clients can benefit from saving on on-going contractor costs by setting the system up themselves! Just another example of how Quadrant2Design is helping its customers to access the best service, as well as the best product, in the exhibition industry.
Chloe Anderton, Design Director of Quadrant2Design said: "We love talking to people about how good the Prestige system is. We're excited about using YouTube to reach a whole new audience and to allow our customers to see for themselves just how good Prestige is!"
To go straight to the new YouTube channel: Prestige Events System YouTube
For further information, please contact a Quadrant2Design Design Consultant: phone +44 (0)1202 650 333 or email designteam(at)quadrant2design.com