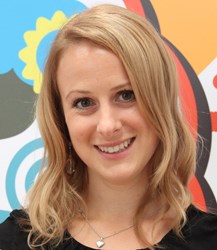 Chloe has always excelled for us, she is an expert in the industry, a lively personality and knows how to make designs work for clients.
Poole, Dorset (PRWEB UK) 10 September 2013
Quadrant2Design, the Poole-based exhibition stands and design agency, have announced that Chloe Anderton will be made Design Director, in order to progress the company aim of becoming the UK's most prominent 'design-lead' modular exhibition stands provider'.
With exceptional experience across the exhibitions industry, Chloe will aim to further enhance Quadrant2Design's reputation as the most versatile and strategic exhibition design firm in the modular exhibition systems market.
Chloe has worked at Quadrant2Design for five years. Initially she worked as a project manager, where she managed clients exhibition projects from start to finish. This meant, that within a very short space of time, she learnt the events industry inside out. Her contribution in this position was impressive, helping to develop and maintain Quadrant2Design's unique project management methodology.
As a result of her work in production, Chloe was promoted to marketing, where she applied her expert knowledge of the exhibition industry to setting out the firms direct marketing, digital, social media and public relations strategies.
Having learnt Quadrant2Design's design lead philosophy inside out, as well as developing the firms communications, Chloe formed some of the strongest client relationships that Quadrant2Design still maintain. Over time Chloe transitioned into a design consultant role, working further to extend Quadrant2Design's excellent network of top level clients.
The creation of the role of design director reflects a strategic move by Quadrant2Design to further drive sales through the creation of unique and highly effective exhibition stand design, coupled with strong awareness of clients branding needs and impactful graphic design.
The Prestige Events System is unique in being both a flexible and modular exhibition system; and is capable of being reconfigured into multiple stand configurations to suit the rapidly changing requirements of customers. For instance, the Prestige system can be used for a press conference, then re-configured for a product launch or exhibition stand.
Prestige is also easy to self-build, removing the cost of contractor lead exhibition stand installations. No other exhibition solution offers this degree of versatility; the ability to adapt for different uses and different spaces.
Alan Jenkins, Managing Director of Quadrant2Design said: "Chloe has always excelled for us, she is an expert in the industry, a lively personality and knows how to make designs work for clients. As Design Director she is a great asset in attracting clients who are interested in having the best design on the best exhibition stand system that the industry has to offer."
For further information, please contact a Quadrant2Design Design Consultant: phone +44 (0)1202 650 333 or email designteam(at)quadrant2design(dot)com.