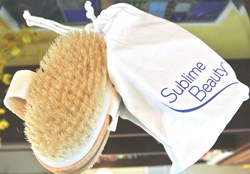 Continue to be healthy and Skin Brush on your business trip, vacation or weekend away with the new convenient brush and pouch from Sublime Beauty®.
St. Petersburg, FL (PRWEB) September 10, 2013
Skin Brushing boosts well-being. "Skin Brushing (or Body Brushing) rids our skin of dead cells and toxins, boosts blood circulation, helps move the lymphatic system and more," says Kathy Heshelow, founder of Sublime Beauty®. "Our quest this year is to get people to view Skin Brushing as important as teeth brushing!"
Continue to Skin Brush on a business trip, cruise, vacation or weekend away with the new convenient Travel Skin Brush. "You can easily tuck this into any luggage, travel bag or even a purse," Heshelow says. The travel brush comes with a pull-string protective pouch.
All purchasers will receive a brochure entitled "Why You Should Keep Up Skin Brushing When You Travel" by email.
Regular schedules typically go out the door on a trip, whether it is a hectic business trip, an active vacation or a leisurely beach jaunt. Climates may vary, food may be different and traveling itself may lead to slowed blood circulation (sitting on planes or long journeys by car, for instance).
Skin Brushing each day can help invigorate the body, aid in digestion and blood circulation, and sweep away toxins from the skin. The Sublime Beauty® brush has natural bristles, a collapsible soft handle (easy for packing), and a polished wood base.
Pointers on Skin Brushing:
1) Brush on absolutely dry skin.
2) Always brush towards the heart.
3) Brush firmly enough to invigorate but not so hard as to hurt and not so light as to be ineffectual.
4) Typically start at the feet and work your way up.
5) Do not brush over open sores or cuts.
6) Don't share your Skin Brush with others.
"This is a handy little brush that can go with you anywhere," says Heshelow.