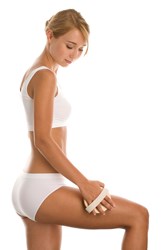 Skin Brushing helps remove toxins from our largest organ, the skin, and helps boost blood circulation and lymphatic function. This can help keep us healthy when we travel. A new small travel brush and pouch are now available for this purpose.
St. Petersburg, FL (PRWEB) September 11, 2013
Travel takes us out of our normal environment. Travel can be fun or stressful, but there is no question that our daily routine is typically different. You may be eating different foods and eating at different times or you may be in a different climate. You may have been sitting too long on the day of travel, whether in a plane, train or car. Your daily exercise schedule may be off.
"Skin Brushing when you travel can help your overall well-being," says Kathy Heshelow, founder of Sublime Beauty®. "It helps to boost blood circulation and it removes toxins from your skin to keep you healthier. It aids in digestion and can certainly help support the lymphatic system. Staid lymph can help contribute to disease. It helps boost the immune system."
Sublime Beauty® advocates for daily Skin Brushing and introduced a long-handled Skin Brush with natural bristles earlier this year which has been wildly popular. Now, after specific customer requests, the company introduces the Travel Skin Brush with pouch. Keep up with the daily habit even when away.
Purchasers receive the 4 page report about travel and skin brushing with a reminder about how to properly skin brush. The company has a website devoted to Skin Brushing as well.
The brush has natural bristles, a soft handle and polished wood base. A pull string pouch protects the brush, and it is easily tucked into any luggage or bag. The Travel Skin Brush is now available through Amazon.