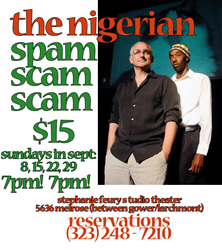 "Screamingly Funny… Like Larry David on happy dust."
L.A. Times
Hollywood, CA (PRWEB) September 08, 2013
Dean Cameron, creator of the original Nigerian Spam Scam Scam two-person comedy, is reopening the show tonight at the Stephanie Feury Theater Studio in Hollywood, CA. The show will run Sundays at 7 pm through the end of September.
REVIEWS:
"Dean Cameron's Nigerian Spam Scam is an absurdist masterpiece about the natural human capacity for gullibility. He turns predator into prey with intelligence, hilarity and wit, but surprisingly, never with contempt."

Adam Savage - Mythbusters
"It's a great show. It's a smart show. It's a skillful show. It's an important show. It's a fall on your ass funny show."

"…twisted comic super-genius, part Wile E. Coyote, part Paul Lynde."

"Screamingly Funny… Like Larry David on happy dust."

The Show's Inception:
While guest starring on the 2003 NBC Drama, "Mister Sterling," Dean Cameron received an email from a Nigerian con artist posing as the wife and son of a dead Nigerian leader. Cameron replied, posing as a sexually confused Florida millionaire, whose only companions were his cats, houseboy, and personal attorney, Perry Mason. Cameron embarked upon an eleven-month correspondence with the con man.
Co-starring Victor Isaac as the bewildered and tenacious Nigerian, the duologue, taken from actual email threads, documents the hilarious relationship as it descends into a miasma of misunderstanding, desperation, and deception.
History and Accolades of the Nigerian Spam Scam Scam:
Originally performed over two evenings in Los Angeles at the Sacred Fools Theater as part of their very popular Crime Scene program, The Nigerian Spam Scam Scam was seen in various workshop formats at events including the "Professionals Against Confidence Crime" seminar in Chicago, James Randi's "Amaz!ng Meeting 3" in Las Vegas, and the Skeptics Society monthly meeting at Cal-Tech in Pasadena, California.
With the help and urging of director Paul Provenza ("The Aristocrats," Showtime's "The Green Room") the show traveled to Edinburgh, Scotland and played to sold-out houses, receiving critical acclaim at the Edinburgh Fringe Festival for the month of August, 2004.
After returning from Scotland, The Nigerian Spam Scam Scam was remounted at the Sacred Fools Theater and ran for nearly four months, garnering even more rave reviews and feature articles in the Los Angeles Times, L.A. Citybeat, the L.A. Weekly, and the popular Motley Fool web site among several others.
Evolution of the Show:
As Cameron's correspondence with online scammers continues to evolve and change, so does the show. A "faster, funnier" Nigerian Spam Scam Scam has been featured at the Tricklock Theater's festival in Arizona and the Brick Theater Festival in New York. ABC's "Nightline," taped a featured on the Nigerian Spam Scam Scam right after the show's return engagement to a larger theater for the Edinburgh Fringe, 2005. Unfortunately, the segment did not air due to Hurricane Katrina coverage.
Cameron and Isaac were invited to be featured at the Montreal "Just For Laughs" festival in summer 2006, along with internationally acclaimed acts exactly like Demetri Martin, Stuart Lee, L.A's favorite son, Billy the Mime, Phil Nichol, and the show "Man 1 - Bank 0." Late 2006 saw The Nigerian Spam Scam Scam sharing the bill once again with their quietly disturbed friend, Billy the Mime at the Upright Citizen's Brigade Theater in Los Angeles.
In addition to his continuing directorial guidance and support, Paul Provenza secured "Nigerian Spam Scam Scam" a weekend at the Lakeshore Theater in Chicago as part of a summer series with shows and performers exactly like Julia Sweeney, Michael Ian Black, Louis CK, Daniel Packard, and the silent and ubiquitous Billy the Mime. Due to the show's overwhelming success in Chicago, they were invited back for another full weekend of performances.
With over 150 successful domestic and international shows to date, Cameron and Isaac have teamed with Windwood Theatricals to take the show on tour, booking performances from New Jersey to New Mexico and points beyond.
More information on the Nigerian Spam Scam Scam can be found at the official website.
The Nigerian Spam Scam Scam
September 8, September 15, September 22 & September 29, 2013
7pm Curtain
Reservations: (323) 248-7210
Tickets $15 at the door
Dean Cameron is best known as "Chainsaw" in Carl Reiner's 1987 "Summer School". Since then,as well as working as a writer and director, he's appeared in over 30 feature films and television shows . Recently, Dean worked as an actor on the penultimate episode of USA Network's "PSYCH" as well as roles on "Glee", "The Mentalist", "American Horror Story", "Instant Mom" and "The Neighbors". He has toured the world with his two person show "The Nigerian Spam Scam Scam", an account of his 11 month correspondence with a Nigerian con-artist.