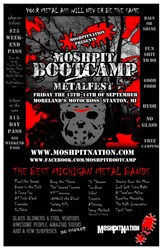 We're not your traditional heavy metal music organization and we don't intent to do things how you'd expect.
Grand Rapids, MI (PRWEB) September 09, 2013
MoshPitNation presents Mosh Pit Boot Camp Metal Festival on Friday the 13th-14th of September in Stanton Michigan at Moreland's Motorcross and Music Theater. A rare breed of music festival, Mosh Pit Boot Camp is pure heavy metal, all-weekend with camping on-site, a horror movie screening and more. Come party and your metal butt will never be the same.
Organizers, MoshPitNation have assembled a non-traditional metal festival featuring 25 of the best local Michigan bands spanning most genres of heavy metal. "We're not your traditional heavy metal music organization, and we don't intend to do things how you'd expect," says Jen Lorenski, founder of the local, grass-roots group.
Not only will they feature the best metal bands around but they'll shake things up by showing a horror movie on Friday the 13th (take one guess at what movie will be shown), open up Saturday with a coffee and jam session led by Flood the Desert and sponsor games and contests to keep campers doubly entertained. Good food will be cooked on-site and non-alcoholic beverages will be for sale. Campers can bring their own beer and booze as long as it's not in glass bottles.
Keeping it local also keeps it affordable with weekend passes at $25 in advance with free camping. Pre-sale tickets are available from most bands, on http://www.MoshPitNation.com and local MI retail outlets: Purple East and Vertigo Music in Grand Rapids, Crickets Pub in Muskegon, The Record Lounge, Flat Black and Circular and Guitar Center in Lansing and The Corner Record Shop in Kalamazoo. Tickets are available at the gate for $30 for a weekend pass or $15 for a day pass, both with free camping so no one has to drive home after partying too hard.
Gates open at noon Friday the 13th and bands start at 5:00 then play through the day and into the night on Saturday the 14th.
25 of the best Michigan heavy metal bands will be showcased throughout the weekend, including: Flood the Desert, Beast in the Field, Bury the Silence, Hokori, A Sleepless Malice, 6 Prong Paw, Sin Theorem, Tru-Burn, All Ends Black, The Severed Process, Kill Tomorrow, Execrate, Culldera, Look Left Swing Right, Essentia, Frontline Mentality, Drawing Down the Moon, Withhold the Blood, Allotropy, Avereign, Society Kills, Equal Parts and Harry Manback (an amazing Tool tribute band).
Vendors will include: Jac Hammer Glass, Bonafide Tough Guy, Black Irish Apparel, Poison Ink, Larry Alan Custom Guitars, Mouth for Metal, Metalhead Ned and MoshPitNation.
Find more information about Mosh Pit Boot Camp on Facebook or the official Facebook Event Facebook event or on MoshPitNation.com
MoshPitNation is a local, grass-roots organization in Michigan started in 2011 to promote all local and national heavy metal concerts in the area. It has grown to include one calendar of metal shows for all of lower Michigan, as well as booking local shows and organizing local metal festivals. MoshPitNation also sponsors local heavy metal events such as the Heavyweight Battle of the Bands at The Intersection. Helping local bands is a priority by promoting and distributing CDs at local independent music stores. Find MoshPitNation on a variety of social media pages, include http://www.MoshPitNation.com, Facebook.com/MoshPitNationWestMI, Facebook.com/MoshPitNationEastMI, Twitter.com/MoshPitNation, Google+, SoundCloud.com/MoshPitNation