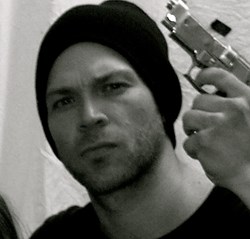 You think if those firemen knew those towers were coming down, they'd still go in? Hell no!
San Ysidro, California (PRWEB) September 10, 2013
Why should anyone remember Preston Ricky during a time when the nation commemorates the solemn anniversary of the devastating 9/11 attacks on New York? Mogul Films has released the film, An Incident In San Ysidro, chronicling the last day of Ricky's life, as well as those of his victims. Ricky's views on 9/11 may possibly have been the spark that ignited his rampage. And his ideas were not pretty.
"I think it's healthy to show opposing views. We've become so PC, it's ridiculous," states Darron Morris, the film's director. "I would guarantee that there are scores of people who believe as Preston did. But everyone's afraid to offend. Talk of race, sexual orientation, the N-word... it's all taboo."
The motion picture is based on entries from a diary recovered after Ricky's death. One entry: "You think those firemen woulda (sic) kept going in those towers if they knew they were gonna come down? Hell no! They woulda (sic) been stepping all over women and children. They ain't no heroes." Other entries include tirades concerning his abusive relationship with his mother and his strong desire to take lives. These and other entries from his diary can be found at https://mogulfilms.com/Preston_Ricky_s_Diary.html. Preston Ricky was killed on July 18.
The DVD and download are available at http://www.mogulfilms.com and http://www.mogulswag.com.