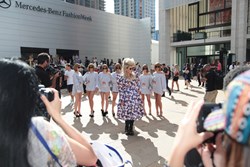 It's important to keep innovation alive in fashion.
(PRWEB UK) 9 September 2013
An Anna Wintour Flash Mob lead by British Designer and Singer Madame Allsorts brought the Lincoln Centre Plaza to a grinding halt today creating the most exciting ad hoc fashion show fashion week has ever seen!
The "Fash Mob" as the group are now being called staged an unscheduled catwalk presentation as crowds arrived at the Diane Von Furstenberg show, within seconds fashion lovers were circling the models eager to take a photo and capture an off the cuff fashion moment.
The team of Anna Wintour clones wearing signature strawberry blonde bobbed wigs and dark glasses we dressed in Madame Allsorts Spring, Summer, Autumn, Wintour sweatshirt. Madame Allsorts designed the sweatshirt in homage of one of fashions biggest faces, Vogue Editor Anna Wintour. The design which replaces Winter with Wintour is said to be a tongue in cheek statement about the conformity and seasonality of fashion.
The Anna Wintour clones were lead by Madame Allsorts who was dressed in a one of a kind Anna Wintour Dress she had designed specifically for the event. The dress featuring Anna Wintour heads is a traditional crinoline style gown that celebrates womanhood.
The Fash Mob caused so much of a stir that they were eventually evicted from the site by several police officers. On speaking of the fashion show Madame Allsorts said "It's important to keep innovation alive in fashion, the spirit of my designs are playful and unrestrictive so thats exactly what I want my shows to be! Fashion should be about standing out and celebrating difference and thats what we did today!"