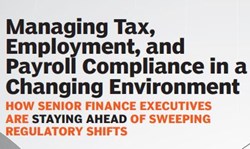 Being predictive can help a company anticipate and prevent compliance failures—and the resulting penalties—rather than react to failures after they've already occurred.
Boston, MA (PRWEB) September 10, 2013
The vast majority of senior finance executives regard employment-related tax and payment compliance as a priority, but also see it as a growing burden. Nearly three-quarters view the increasing complexity of newer regulations as most likely to consume additional resources in the next two years. Even so, most finance leaders predict that their budgets for managing compliance won't grow in the near future, challenging them to do more with less, manage through inefficiencies and find ways to keep pace with shrinking employment-related tax and payment compliance deadlines.
Those findings, among others, emerged from a recent online survey conducted by CFO Research, in collaboration with ADP, a leading provider of human capital management services. The 150 survey respondents, all of whom were based in the U.S., were employed at companies with annual revenue of more than $100 million. The full report, titled Managing Tax, Employment and Payroll Compliance in a Changing Environment, is now available for download at cfo.com/research.
Among survey respondents, 67% say that compliance is "one of several priorities," while 21% characterize it as "one of my top priorities." When asked which changes were most likely to consume additional company resources in the next two years, 73% chose "increased complexity of newer regulations." About 80% of respondents report that the task of monitoring tax, employment and payment-related rule changes has become more time-consuming in the past two years.
While their compliance challenges may be mounting, few respondents expect their resources to increase at a significant rate. About half (52%) of respondents say that they anticipate that their budget for compliance activities will remain the same in the coming year. Another 40% expect their budgets to increase during that time period—but only slightly.
At the same time, 43% of finance executives expect that their companies would enjoy measurable benefits if they took a more proactive stance toward compliance in the areas of tax, employment and payment regulation. Being predictive can help a company anticipate and prevent compliance failures—and the resulting penalties—rather than react to failures after they've already occurred.
To get to that point, however, many companies will need to address their systems environment. For example, 65% of respondents agree that their companies could boost efficiency and productivity by "reducing the number of touchpoints and handoffs in compliance processes." But 71% of respondents acknowledge that compliance at their companies relies on multiple, separate information systems, falling short of the level of integration and communication needed to achieve efficiency and predictability.
###
For Further Information:
CFO Research (cfo.com/research) is the research group at CFO Publishing LLC, which also produces CFO magazine, CFO.com, and CFO Conferences. The company is based in Boston.
Contact: Josh Hyatt, Associate Director, CFO Research, 617-790-3256, joshhyatt(at)cfo(dot)com
With more than $11 billion in revenues and more than 60 years of experience, ADP® serves approximately 620,000 clients in more than 125 countries. As one of the world's largest providers of business outsourcing and human capital management solutions, ADP offers a wide range of human resource, payroll, talent management, tax and benefits administration solutions from a single source, and helps clients comply with regulatory and legislative changes, such as the Affordable Care Act (ACA). ADP's easy-to-use solutions for employers provide superior value to companies of all types and sizes. ADP is also a leading provider of integrated computing solutions to auto, truck, motorcycle, marine, recreational vehicle, and heavy equipment dealers throughout the world. For information about ADP SmartComplianceSM or to contact a local ADP sales office, reach us at 1.855.237.4236 or visit the company's Web site at http://www.adp.com/SmartCompliance.
The ADP logo, ADP, ADP TotalSource, RUN Powered by ADP® for small businesses, ADP Workforce Now® for midsized organizations, ADP Vantage HCM® and ADP GlobalView® for large and multinational organizations and ADP SmartComplianceSM are registered trademarks of ADP, Inc. Copyright © 2013 ADP, Inc.
Contact: Jessi Newman, Weber Shandwick for ADP, 952-346-6026, jnewman(at)webershandwick(dot)com