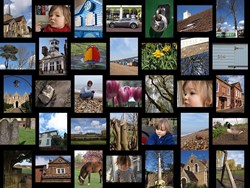 This is an exciting time for ITX Design as our company grows. Adding more options for our customers like Gallery hosting is a huge step in our long term development
New York, NY (PRWEB) September 08, 2013
Late Saturday evening, the ITX Design crew was hard at work preparing the launch of Gallery style hosting options for their customers all over North America. CEO and Co-Founder Doug Davis made the announcement to staff, management, and clients in the wake of the popular web hosting company's recent expansion of hosting choices.
As of September 15th, ITX will be offer fast and easy photo albums to small business and individuals in a matter of minutes, all with a simple phone call to get the process started
If a picture is worth a thousand words, and ITX Design is the fastest way for a small business owner to tell their story on a website. With ITX Design's Gallery options, theirs no need to purchase expensive, convoluted software to display albums or company inventory. Point-and-click simplicity and easy-to-follow menus lets ITX Design clients create a vibrant, online slide-show in a few short steps, with no technical knowledge needed.
Photo Gallery with ITX Design offers everything a small business owner needs to design and create the best possible online photo album:
Simple upload – Select single photos from any folder, or simply upload an entire photo archive at once using a ZIP file.
High Impact Visuals – ITX Design customers can now build a spectacular slideshow, add background music, rotate photos to fit a selected style, or add fade-in/ fade-out effects for a professional look.
Preview Page – Customers can utilize the preview function before publishing their photo album on a company website.
Multiple Web Page Options– ITX Design hosting customers can now create a stand-alone photo album web page, and incorporate photos into an existing site, or use the ITX Design web-builder to add a photo gallery.
CEO Doug Davis said, "This is an exciting time for ITX Design as our company grows. Adding more options for our customers like Gallery hosting is a huge step in our long term development."
ITX Design is an established web hosting and domain registration provider based out of Fredericksburg, Virginia providing dedicated servers, shared web hosting, and domain registration for small businesses including server hosting, WordPress hosting, reseller hosting and much more.
For more information or to speak with a qualified customer support representative, simply call 1-866-577-1442, or visit ITX Design today.