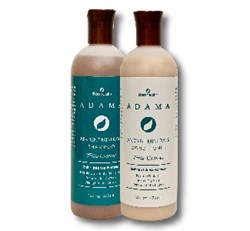 We believe that beautiful skin and hair starts with natural products.
Bakersfield, California (PRWEB) September 12, 2013
In an effort to provide customers with even greater resources, SpiritDetox.com has announced the addition of the Adama Clay Minerals White Coconut Shampoo and Conditioner to its growing list of natural, clay-based beauty products. The new conditioner and shampoo are completely organic and vegan, contain no gluten and are safe for use on all hair types.
The White Coconut Shampoo and Conditioner are made from pure essential oils and natural Kanwa clay. Both combine to help improve the overall health of the hair, while providing a pleasant scent as well. Color treated and heat styled hair ends to respond very well to these products.
When asked about the addition of the products to his store, Albert Milligan of SpiritDetox.com said, "We believe that beautiful skin and hair starts with natural products. Because the Adama Ancient Minerals Coconut Shampoo and Conditioner contain ingredients like Kanwa clay and organic jojoba oil, our customers get the results they want, and some they are surprised about."
"For example," he continued, "some customers have reported fewer problems with psoriasis and dandruff after using this product." The versatile shampoo and conditioner contains no toxic ingredients. Since the product is 100 percent organic, it's safe for daily use and can be used on children.
About SpiritDetox.com
SpiritDetox.com is an online retailer that sells natural health and beauty products made from completely natural ingredients. To find out more about their products, visit http://www.spiritdetox.com.