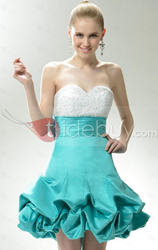 HK,China (PRWEB) September 09, 2013
Tidebuy, an online women clothing store, is celebrating its third birthday by offering great discounts on its products, which is welcomed by lots of its regular customers and new customers. During the anniversary period, the company holds many different activities to thank their customers and also their diligent employees. Anyone who buys things from Tidebuy will enjoy great discounts, money-returned benefits or free shipping services.
In order to show their best wishes and gratitude to Tidebuy, most customers write good Tidebuy reviews, showing their positive attitude towards the company's third anniversary. One of Tidebuy reviews written by a Canada customer goes like this, "Thanks for the 3rd anniversary. Now I can buy the wedding dress and the two bridesmaid dresses that I wanted two weeks ago. I'm looking forward to seeing that the store will continue to provide such benefits on the next anniversary."
Tidebuy, a young company set up by a group of passionate youngsters, has now grown up to be a reliable comprehensive e-commerce company which sells not only wedding dresses and special occasion dresses but also other kinds of women clothing, such as women pants, women shirts and women accessories. Moreover, it owns a garment factory with R&D department and design and quality control department, and offers full-day customer service online. It operates business in more than 230 countries, and everyday, hundreds of products are shipped to these countries. That is to say, at least one of the women in these countries has worn a piece of clothing made by Tidebuy.
The spokesman of Tidebuy said in an interview: "From the reviews made by our customers, we can see that the anniversary of our company is worthwhile and significant. It can not only show our gratitude to our customers, but also help us know which kind of promotional activities are welcomed by customers. What's more, the anniversary is a good opportunity to attract more customers and increase our reputation. We hope that the next year's anniversary can be more rich and colorful."
It is true that Tidebuy does offer some wonderful collections, such as wedding dress collections, evening dress collections, prom dress collections and other women clothing collections. All products at this store come with high quality, stylish designs as well as superb craftsmanship. The company has become one of the top sellers of China in short three years. Its CEO, designers, managers and employees are making great efforts to create a better future.
About Tidebuy
Tidebuy, a Chinese online store selling women clothing, such as dresses, women pants and women shirts, is one of the few online stores which has its own garment factory, design and quality control department, distribution center as well as full-day online customer service center. It has business in many different countries and supports payment in different currency. Its most popular collection is wedding dresses which are delivered to its clients 24 hours per day.