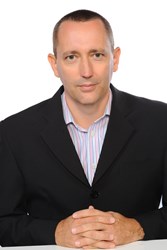 there is an increasing need for strong leadership in technology who has experience in managing scrum teams in large scale production environments while building sustainable architectures and development practices
Singapore (PRWEB) September 10, 2013
PropertyGuru Group is pleased to announce the appointment of Ifor Evans as Chief Technology Officer. He brings over 20 years of hands-on and leadership experience in web and mobile technology.
Ifor will lead PropertyGuru's information technology team of more than 50 to ensure the Company continues to lead the industry by driving the innovative strength of its brand proposition. More specifically, this will involve pushing the boundaries of technical innovation
on the mobile front and streamlining software development processes.
At top-line management, Ifor will be working with the Executive Team to adopt appropriate measures to build and manage a top-tier technology team with oversight on recruiting, training, retention, and workflow organization.
Prior to joining PropertyGuru, Ifor was Senior Director of Development for Transaction Banking at Misys in the United Kingdom, responsible for running development teams in multiple locations internationally. He was also Head of Development for Platform at Betfair and Development Director at dunnhumby Ltd for 3 years where he was instrumental in transiting the group to utilise Agile (Scrum/XP) development processes to maximize resource and cost efficiencies.
He has also previously served as CTO for WorldPictureNetwork, a New York based web and media company, and spent time building the UK business as a Principle at ThoughtWorks.
According to Steve Melhuish, Chief Executive Officer and Co-founder of PropertyGuru Group, "As PropertyGuru continues to expand, there is an increasing need for strong leadership in technology who has experience in managing scrum teams in large scale production environments while building sustainable architectures and development practices.
Ifor fits the bill perfectly with his capable skills-set to position PropertyGuru at the forefront of technology through operational and personnel excellence - essential for our fast-growing, dynamic organisation where people come first!"
--------ENDS------------
PropertyGuru Group
PropertyGuru Group is Asia's leading online property portal group used by almost 11 million property buyers, viewing over 89 million property pages and generating over 350,000 enquiries for real estate developer and agent advertisers – every month.
Headquartered in Singapore, PropertyGuru was founded in 2006 by 2 entrepreneurs with a vision to simplify the property search process and help buyers, sellers and investors make better property decisions faster. Taking advantage of Asia's growing affluence, property demand and online explosion, it received its first VC investment funding in 2008 and most recently secured approximately $60m investment in 2012 from Deutsche Telekom, South East Asia's largest digital investment to date. Since its launch, PropertyGuru has reported rapid growth and most recently announced a record 96% increase in revenue, 60% increase in internet users and 50% increase in paying agent advertisers to over 24,000 – in 2012.