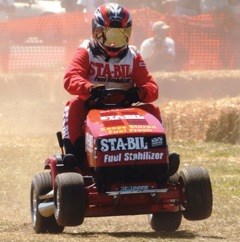 I am thrilled to have the honor of inducting my racing buddies 'Cooter' and 'Hedge Hog' into the place of high honor for lawn mower racers. - Bobby Cleveland
Columbus, OH (PRWEB) September 09, 2013
The STA-BIL® Engine Answerman™ Bobby Cleveland will motor into the Buckeye State as the United States Lawn Mower Racing Association (USLMRA) hosts its 21st STA-BIL Keeps Gas Fresh Finals National Lawn Mower Racing Championships on Saturday, September 14 at 7 pm at the Delaware County Fair, 236 Pennsylvania Ave., Delaware, OH.
Lawn rangers from across America will compete in the bladeless competition at speeds up to 50 mph to determine the ultimate turf warriors. National Champions will be crowned in 11 classes with winners receiving trophies, bragging rights and garden gnomes.
Cleveland will serve as Master of Ceremonies for the 6th Annual Lawn Mower Racing Hall of Fame Induction Ceremonies. He will induct 20-year racing veterans Kevin "Cooter" Penne and Mike "Hedge Hog" Miller, who will join legends of the lawn including "Turfinator," "Sodzilla" and "Mr. Mowjangles" in the Lawn Mower Racing Hall of Fame located at Miller Lawn & Power in Marion, OH.
Cleveland is the builder and driver of The World's Fastest Lawn Mower, which set the World Land Speed Record of 96.529 mph at the Bonneville Salt Flats in 2010. He also holds numerous USLMRA championships and is one of the nation's most decorated lawn mower racers.
"I am thrilled to have the honor of inducting my racing buddies 'Cooter' and 'Hedge Hog' into the place of high honor for lawn mower racers," said Bobby Cleveland, the STA-BIL Engine Answerman. "As a 15-year USLMRA racer, I dream of one day entering the Hall of Fame myself. But for now, I'm ready to grab the microphone and hold court!"
Cleveland has toured the country as the STA-BIL Engine Answerman since 2006 and educates thousands of people from coast to coast on how to protect the things they love, including power sport vehicles, classic cars, boats, RVs, lawn mowers and motorcycles. As a former technician and riding lawnmower designer, he has a passion for sharing his advice experience on how to obtain greater performance out of all things motor.
Founded on April Fool's Day, STA-BIL helped start the USLMRA in 1992 and after 21 years is one of the longest-running motorsport sponsorships in United States. The STA-BIL Keeps Gas Fresh Finals on September 14 in Delaware, OH is the final event of the 18-race STA-BIL Lawn & Garden Mower Racing Series.
About the U.S. Lawn Mower Racing Association
Founded on April 1, 1992, The U.S. Lawn Mower Racing Association sanctions and presents organized lawn mower racing across America including the 20-race STA-BIL Lawn and Garden Mower Racing Series, a U.S. Open National Series, Local Traveling Chapters and Home Track Affiliated Clubs, hosting 140 events each year. The USLMRA is the nation's oldest and largest National Lawn Mower Racing Sanctioning Body with more than 800 racers nationwide. Lawn mowers race in several road course classes with all cutting blades removed at speeds from 10-60 mph. Racers compete for trophies, points and bragging rights, never for purse money. The annual STA-BIL Keeps Gas Fresh Finals national championship is televised on Fox Sports Net "Race Freaks" USLMRA sponsors include STA-BIL Fuel Stabilizer, HEET GasLine Antifreeze, Diesel Power!,104+ Octane Boost, No Leak, Alumaseal, Start Your Engines! and K&N Filters. For mow info, please visit http://www.letsmow.com.
About Gold Eagle Co.
For 80 years, Gold Eagle® Co. has been an industry pioneer in the production and distribution of aftermarket fluids and additives, creating products that help preserve, protect and enhance the performance of engines everywhere. Gold Eagle® Co is a leader in the product development, manufacturing, marketing, and distribution of branded engine performance and maintenance chemicals. Privately held and headquartered in Chicago, Gold Eagle Co. is the manufacturer of leading brands, including STA-BIL® Fuel Stabilizer, HEET® Gas-Line Antifreeze, NO-LEAK® Treatments, 104+® Octane Boost, Start Your Engines® and DieselPower!® Diesel Additives. To view a complete line of Gold Eagle products or learn more about the Company, please visit http://www.goldeagle.com.