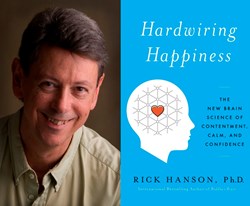 San Francisco, CA (PRWEB) September 08, 2013
Neuropsychologist Rick Hanson made a name for himself with his first book, Buddha's Brain: The Practical Neuroscience of Happiness, Love, and Wisdom.
Hanson's new book Hardwiring Happiness: The New Brain Science of Contentment, Calm, and Confidence' (Random House, Oct 2013) illustrates how taking just a few extra seconds to stay with a positive experience - from the pleasure of a deep breath to a sense of calm, satisfaction, and love - can turn good moments into a great brain, full of strength, health, and happiness.
That's what it means to "take in the good" which is based on neuroplasticity and it resets the brain back to its natural resting state - its 'responsive mode' - which refuels and repairs the body, makes us feel peaceful, happy, and loved, and helps us act with confidence and compassion. This deceptively simple practice increases health and longevity, heals distress and dysfunction, deepens resilience and well-being, turbocharges personal development, improves relationships, and promotes a more humane and peaceful world.
'Hardwiring Happiness' has been endorsed by Thich Nhat Hanh, Stephen Porges, Dan Siegel, Kristin Neff, Paul Gilbert, Harville Hendrix, Jack Kornfield, Sara Gottfried, Tara Brach, Bill O'Hanlon, Sharon Salzberg, and many others.
Grounded in neuroscience, offers practical practices that provide radical happiness and well-being. And it has special sections on children, motivation, relationships, trauma, and spiritual practice.