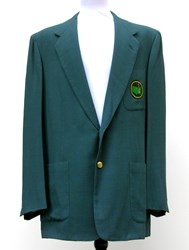 Golf's Holy Grail obtains the highest price ever paid for a piece of golf memorabilia
Tampa, FL (PRWEB) September 09, 2013
Tear up the record books! The original Green Jacket awarded to the first-ever Masters Tournament Champion Horton Smith shocked the golf world by fetching almost $700,000 Sunday morning on GreenJacketAuctions.com. The $682,229 final bid is the highest price ever paid for a piece of golf memorabilia.
Background
Last month, golf memorabilia auction house Green Jacket Auctions received a call that immediately sent shockwaves throughout the golf community.
"I think my family has something that people have been looking for," the caller said.
Hanging in the back of the caller's closet outside of Atlanta, Georgia was one of golf's Holy Grails: the original Green Jacket from 1934 & 1936 Masters Champion Horton Smith. As it turns out, a distant relative of Horton Smith owns the jacket, which his family kept tucked away for many years, never knowing that the golf world was searching for it until recently.
The Masters Tournament began awarding Green Jackets to its Champions at the 1949 Masters when newly minted Champ Sam Snead and the 9 previous Masters Winners were first given their jackets. These so-called "Original 10" Green Jackets are among the most coveted pieces of modern golf history, the bulk of which are owned by Augusta National Golf Club or the World Golf Hall of Fame. But the Green Jacket awarded to the first Masters Champion, Horton Smith, has been "lost" for decades.
About the Auction
The Summer Golf Auction hosted by Green Jacket Auctions concluded on Sunday, September 8, 2013. The auction featured 378 lots of rare golf memorabilia, which eclipsed the $1 million mark for the first time in the auction house's 7 year history.
About Green Jacket Auctions, Inc.
With offices in Tampa, FL and Denville, NJ, Green Jacket Auctions, Inc. is the largest online golf antiques and memorabilia auction house in the world. It hosts quarterly auctions of rare golf memorabilia, which are participated in by collectors and institutions from around the world.