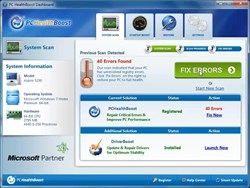 Boston, MA (PRWEB) September 10, 2013
As many software affiliates learned last week, the PC Health Boost ™ registry cleaner converts well on most types of sites—not just software specialty sites. But affiliates who haven't tested the graphics available in the Boost Affiliates program could be leaving money on the table.
The Boost Affiliates program recently added new, tested site graphics for its affiliates. The graphics can be found in the Boost Affiliates Membership Section along with ad creative, two keyword lists, and an extensive media training section.
The graphics were added in preparation for PC HealthBoost's™ entry into the Clickbank affiliate network. This entry gained the product 250 selling affiliates, as well as another 700+ that completed the company's affiliate training course.
"These tested graphics are meant for software affiliates of all levels," says Pete Futchko, Affiliate Manager for Boost Software™. "Experienced affiliates can test these images against their own, or just use them to quick-start a campaign. And new affiliates have some of the worry taken away, because they instantly have something that is tested, proven, and works."
Futchko is a new addition to the Boost Affiliates team. He came to work for the software company after several years in affiliate marketing management for other businesses.
Most online software affiliates and vendors acknowledge screenshots as a significant conversion increaser for registry cleaner and other software sales.
How come screenshots make such a big impact? Different marketers have suggested different reasons. Some say it is because customers can more easily imagine themselves using the product. Others may trust a sales page more simply because they can see an example of the product, and don't feel kept in the dark.
Whatever the case may be, Boost Software found that screenshots increased the conversion rate for PC HealthBoost™.
"Affiliates shouldn't have to screenshot their own images, or grab them from the vendor site," says Erin Walsh, Boost Software's Director of Public Relations.
Screenshots aren't the only images that Boost Software affiliates have access to. The new graphics package also includes product boxes, brand logos, and trust seals, as well as "act now" buttons that customers can click in order to scan or fix their computers.
"The trust seals let consumers know that PC HealthBoost™ has been found a quality software by independent reviewers, such as Tucows," says Walsh. "The brand logos assure customers that this is the real deal, not some knockoff production or pirated software."
Product boxes have also been shown to increase conversions for downloadable software. Most vendors and affiliates claim this is due to the fact that product boxes give customers something concrete to wrap their minds around.
PC HealthBoost™ has been a contender in the PC optimization software field since 2010. The software recently became available on Clickbank, where it became the networks #1 most popular registry cleaner (and #6 software overall) in the first four days of its launch. Interested affiliates can find out more at BoostAffiliates.com.