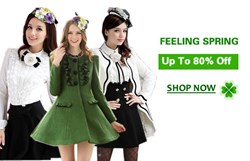 (PRWEB) September 09, 2013
Cheap dresses may be linked to low quality, but 4leafcity.com, one of the leading companies of women's dresses, is proving low price is not always equal to low quality.
Recently, the company has launched a promotion of wedding dresses, up to 48% off (see http://www.4leafcity.com/product-wedding-dresses-011001002.aspx).
According to the CEO of the company, cheap wedding dresses are popular in the market, and many people are buying wedding dresses online. The company's wedding dresses are specially designed to attract more new clients with affordable prices. 4leafcity.com knows that it is a big event for a bride to get a suitable design in terms of quality and price.
"We have more than 10 years of experience in the dress making field, and our CEO, Ms. Wang, is a famous dress technology consultant in the industry as well," says a spokesman for the company. "We aim to provide a one-stop shopping experience for women worldwide."
The company's top designers keep eyes closely on the recent fashion shows, and know the latest trends. Based on its marketing observation, the company has started using different marketing strategies to meet the requirements of different clients. It would be wonderful to wear a wedding dress designed by 4leafcity.com.
About 4leafcity.com
4leafcity.com is one of the leading providers of women's dresses. The company is currently preparing many case studies that educate its young designers while helping them develop self-esteem, confidence and love of learning. For a full list of services and to learn more about 4leafcity.com, please visit http://www.4leafcity.com.