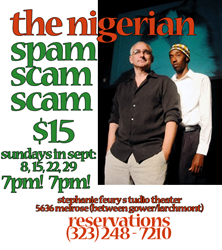 "It's a great show. It's a smart show. It's a skillful show. It's an important show. It's a fall on your ass funny show."
- Penn Jillette
Hollywood, CA (PRWEB) September 09, 2013
Dean Cameron's "Nigerian Spam Scam Scam" opened Sunday, September 8th at the Stephanie Feury Theater Studio in Hollywood, to a full house. This season's show has been revised and updated with a new ending, based on a final follow-up with the actual Nigerian scammer three years after the fact.
"I can't stop tinkering with it," says Dean Cameron regarding the script for his two-person show, which co-stars Victor Isaac.
Like everyone with an e-mail address, the actor found himself swamped with messages from a "Nigerian Prince" and various supposed relatives promising millions. A curious Cameron, during his down time as a small recurring actor on a television series, wrote back to a scammer back to see what would happen.
"I wrote as a version of myself only my shrink understands: a sexually confused Florida millionaire with an ageless Philippine houseboy and two frisky cats. Basically, someone rich enough and nuts enough to fall for the scam," Cameron said.
The correspondence with the Nigerian lasted almost a year, leaving Cameron with a wealth of content to draw from in building his comedy masterpiece.
While the clever show hilariously turns the tables on the scammer, Cameron is quick to add, "The thing to remember, though, is to not blame the actual victims of these scams. They're victims of crime just like anyone. The guys running the scams know what and whom to prey upon. I tried to play right into their hands."
This limited run of "Nigerian Spam Scam Scam" will include only three additional September shows prior to the national tour. Venues and dates for the tour will be announced shortly.
====================
Sundays at 7 pm
September 15th, 22nd & 29th at The Stephanie Feury Studio Theater
5636 Melrose
Los Angeles, CA 90036
Guests are encouraged to make reservations in advance, as seating is limited.
Reservations: (323) 248-7210
Tickets $15 at the door
Dean Cameron is best known as "Chainsaw" in Carl Reiner's 1987 "Summer School." Since then, as well as working as a writer and director, he has appeared in over 30 feature films and television shows. Recently, Dean worked as an actor on the penultimate episode of USA Network's "PSYCH" as well as roles on "Glee," "The Mentalist," "American Horror Story," "Instant Mom," and "The Neighbors." He has toured the world with his two-person show "The Nigerian Spam Scam Scam," an account of his eleven-month correspondence with a Nigerian con artist.