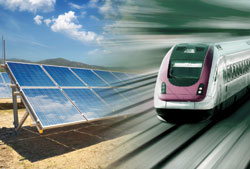 Casablanca, Morocco (PRWEB UK) 9 September 2013
IRN, global summit organiser is proud to bring you new updates on the upcoming Maghreb Infrastructure & Construction Summit taking place 25-26 September at Le Royal Mansour Méridien Hotel in Casablanca, Morocco.
With the support from the Government officials from (Algeria, Tunisia & Morocco), the UK Trade & Investment (Morocco), Middle East Association (MEA), Algerian Trade & Exhibitions (ATE), and the Arab British Chamber of Commerce, the MIC Summit is being held at a crucial time.
The MIC 2013 summit will attract a wide range of senior level speakers, from Government bodies, Regional Infrastructure Companies, Global Institutions, Banks and International Investors.
DAY 1: TRANSPORT INFRASTRUCTURE
"The first day of the Summit will focus on the latest transportation projects in the Maghreb region, from the rehabilitation of railways, to roads, ports and aviation development"
DAY 1: Expert Speakers

H.E Aziz Rabbah, Minister of Transport, Ministry of Transport Morocco
H.E Karim Harouni, Minister of Transport,Ministry of Transport Tunisia
Mr. Abdellah Benmaârouf, President- General Director,National Road Transport Society (SNTR)
Mr. Samir Belrhandoria, CEO, Morocco Infrastructure Fund, Morocco
Mr. Sebouai Lofti, Director of Infrastructure, Arab Maghreb Union, Algeria
Mr. Sami Zgueb, Director for External Relations, Ministry for Transport Tunisia
Mr. El-Hadi Djoumagh, Deputy Director, Algerian National Railway Transport Society (SNTF)
Mr. Hamid Badre, Associate Director, ABH Consulting and Support, Strategy and Business Development Africa, Morocco
Mr. Alain Nadeau, Head of Maghreb Division, European Investment Bank
China Railway Construction Corporation Representative
Mr. Dalil Guendouz, CEO, Moroccan Airports Authority
Mr. Abderrahmène Gamha, President and CEO, National Company for Tunisian Railways (SNCFT)
Mr. Salah Gharsallah, President Director General, Civil Society & Airport Authority
Mr. Mohammed Smouni, Director of Development, Moroccan National Office for Railways (ONCF)
Mr. Youssef Imghi, General Director, Tangier MED Engineering
Mr. Rachid Houari, Director, Tangier Med Port I
Mr. Sghir El Filali, Director of Regulation and Development of Ports, National Ports Agency of Morocco
Mr. Wei Wanzheng, General Director, CRCC, Algeria
Mr. Moritz Bruns, Managing Director, FRS
DAY 2: ENERGY SECTOR OVERVIEW
"The second day will focus on the energy sector in more detail; discussions will include energy efficiency, renewable energy programmes and utilizing different sources of energy for electricity production"
DAY 2: Expert Speakers
Senior-level Representatives, Ministry of Energy, Mines, Water and Environment
Mr. Alain Nadeau, Head of Maghreb Division, European Investment Bank
Mr. Adil Marghub, Manager of Infrastructure & Energy MENA Region, International Finance Corporation (IFC) Word Bank
Mr. Mohamed El Haouari, Director,National Agency for the Development of Renewable Energy and Energy Efficiency (ADEREE), Morocco
Mr. Mohamed Salhi, Chief of the Department Studies and Programmes, Moroccan National Office for Electricity and Water (ONEE)
Mr. Tarik Taki, Chief of the Department Engineering, Hydraulics and Renewable, Moroccan National Office for Electricity and Water (ONEE)
Mr. Mohamed Nahim, Director of Oil Exploration, National Office of Hydrocarbons and Mines (ONHYM)
Dr. Mohamed A.S. Abdel-Monem, Regional Team Leader of Ecosystem Management, Sub-Regional Coordinator for North Africa,United Nations Environment Programme (UNEP)
Mr. Omar Benaicha, Country Chief Executive Morocco, Bureau Veritas
Ministry of Energy Algeria
Ministry of Energy Tunisia
To register or for further information on the Maghreb Infrastructure & Construction Summit, please contact:
Jessica Jonah
jessicaj(at)irn-international(dot)com
+44 (0) 207 111 1615
NOTES TO THE EDITOR
•IRN is a business information group and elite organiser of senior level summits, forums, trainings, publications and high-profile business events which are dedicated in four key portfolios: Oil & Gas, Infrastructure & Construction, Commodity Trading, and Space as the new addition to our extensive portfolio. http://www.irn-international.com.
•For all media and press enquiries please contact Jessica Jonah at JessicaJ(at)irn-international(dot)com