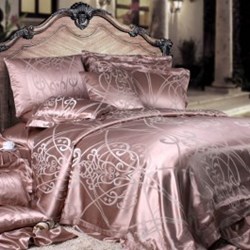 ElleSilk.com always insists on the highest standard for silk bedding products.
(PRWEB) September 11, 2013
ElleSilk.com is a leader in the industry of silk bedding. Recently, the company has added a few more silk sheet sets for autumn 2013 to its silk sheets collection and announced a series of online promotions for new arrivals.The promotion is valid Oct 1st, 2013 through Oct 15th, 2013. During the new season sales, all customers will enjoy the savings up to 20% off, discount coupon codes and free international shipping, which make it easy and exciting for shopping at ElleSilk.com.
The new arrival silk sheet sets in solid colors adopt bundle form which is more user-friendly; buyers can pick sheets into any combination without quantity limitations for standard and/or non-standard requests. These sheet sets feature a large color collection. Besides the popular and classic colors like ivory, and black, several new vibrant colors are added including blue, peach, tea rose, and gold. Among all, gold silk sheets are the most popular one, rich color and soft touch; family will feel of the approaching fall days with the gold color.
Luxury silk bedding sets for new season create much more brilliance to bedroom decor.Alive with ornate detailing and a rich traditional beauty, these sets create a sophisticated styled collection that is sure to enhance the beauty and atmosphere of any bedroom decor. Bolero silk bedding set is currently the best seller, once launched, it is highly anticipated. With the Spanish Bolero style and 28-momme seamless mulberry silk, it will complement any contemporary or vintage bedroom style. 28 mm silk is the heaviest weight and best silk fabric in the bedding market nowadays.
In order to cater to consumers worldwide, from now on, ElleSilk.com offers a massive range of silk bedding sizes. In addition to UK and North America sizes that are popularly used on other websites, they also provide Europe, and Australia bedding sizes to meet the needs of global customers. For all autumn 2013 new arrivals, ElleSilk.com also provides bespoke service to fit larger or odd size bed.
The new silk bedding sets incorporate existing advantages and new elements which make access for customers to buy their favorite bedding in affordable prices with promotions. Fall promotion for new arrivals is to begin, seize and buy for budget. All silk bedding sets from ElleSilk.com are made of 100% mulberry silk and are well-known for excellent quality and rich choices. ElleSilk.com always insists on the highest standard for silk bedding products. For those interested in experiencing mulberry silk at affordable prices, it is a good opportunity for savings.
About ElleSilk.com
ElleSilk.com is a professional supplier of silk bedding.Pure silk duvets, silk sheet sets, silk bedding sets, silk pillowcases, and silk sleepwear are all in stock and ready to ship.The company is known for its pure silk products with high quality and affordable prices.
More information can be found at: http://www.ellesilk.com.