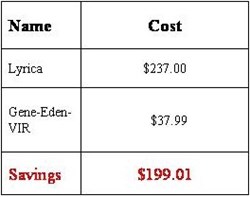 It is important for individuals to know about affordable remedies like Gene-Eden-VIR since Shingles can cause intense pain, and long-lasting nerve damage. - polyDNA
Rochester, NY (PRWEB) September 10, 2013
Recently, polyDNA conducted a survey and found that many people are interested in the cost of current treatments for symptoms associated with herpes zoster (HZV) infection. One of the treatments, which was found effective in a clinical study against viral symptoms, is Gene-Eden-VIR (1). polyDNA found that the cost of Gene-Eden-VIR is 16% of Lyrica, an FDA approved drug against the painful nerve damage caused by the virus.
According to Goodrx.com, the cost of a month's supply of Lyrica (60 pills, 75mg), one of the most common medications against postherpetic neuralgia (pain associated with nerve damage caused by HZV), is $237.00 at Walmart. (1)
Gene-Eden-VIR is an antiviral remedy that boosts the immune system against the latent herpes zoster virus (HZV). A month's supply of Gene-Eden-VIR is $37.99. That's $199.01 cheaper than Lyrica.
Gene-Eden-VIR was proven to be safe and effective in a recent clinical study. The study was published in the peer reviewed, medical journal Pharmacology & Pharmacy, in a special edition on Advances in Antiviral Drugs on August 12, 2013 (2).
The study showed that Gene-Eden-VIR reduced symptoms associated with viral infection. The study authors wrote that "We observed a statistically significant decrease in the severity, duration, and frequency of symptoms (2)."
It is important for individuals to know about affordable remedies like Gene-Eden-VIR since Shingles can cause intense pain, and long-lasting nerve damage. polyDNA therefore recommends Gene-Eden-VIR to those infected with the latent herpes zoster virus (VZV).
To view the entire paper on Gene-Eden-VIR, visit: http://www.scirp.org/journal/PaperInformation.aspx?PaperID=36101
To learn more about Gene-Eden-VIR, please visit: http://www.gene-eden-kill-virus.com
References:
(1) scirp.org/journal/PaperInformation.aspx?PaperID=36101
(2) http://www.goodrx.com/lyrica
polyDNA is a biotechnology company that develops dietary supplements using the unique scientific method developed by Dr. Hanan Polansky, which is based on Computer Intuition.
In addition to his unique scientific method, Dr. Polansky published the highly acclaimed scientific discovery, called Microcompetition with Foreign DNA. The discovery explains how foreign DNA fragments, and specifically, DNA of latent viruses, cause most major diseases.
polyDNA developed Gene-Eden-VIR, an antiviral natural remedy that helps the immune system kill latent viruses.