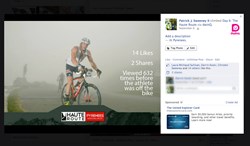 dwinQ enabled life-time memories for the racers, but they are a sponsor's dream come true because the photos are branded and so heavily engaged on Facebook & Twitter.
Biarritz, France (PRWEB) September 10, 2013
dwinQ, the world's first social media operating system (SMOS) for events, leveraged RFID and Facebook to share the excitement, drama and passion of the world's highest and toughest cyclosportive in real time. Nearly 400 entrants raced from Barcelona, Spain to Biaritz, France up and down the spine of the relentless Pyrenees Mountains. For seven days, riders representing 26 nationalities braved conditions from scorching sunshine to frigid fog to push themselves to new limits. For the first time ever, the participants were able to share these moments in real time with their connections on Facebook through dwinQ's SMOS.
"Riders spend the year training for this epic event; their friends and family want to track their progress in real time. Having pictures posted to their own social media site while it's happening is instrumental in providing the ultimate experience for our racers," remarked Mark Turner, Executive Chairman of OC Sport the race organizers. "dwinQ made it easy and created memories that will last a lifetime by having an incredibly high quality system that simply worked. Even more valuable for us is that those memories will forever be branded with the Haute Route Pyrenees logo."
To use dwinQ's system, racers simply entered their race number into a Facebook logon page either before or during the course of the event. It took less than 30 seconds to sign up and racers would then automatically have photos posted. dwinQ's SMOS associated the racer's Facebook account with the RFID chip on the race number. For the entire seven days during the event, racers received multiple photos each day that posted in real time to their Facebook page which told the story of their struggle. At strategic locations such as the Col de Tourmalet or Col d'Aubisque, a professional photographer took a breathtaking action shot that captured the moment and automatically shared it. The photos automatically posted to Facebook and Twitter before racers finished the event; narrating the story of their day to friends and family across the globe. dwinQ's SMOS adorned each photo with the Haute Route Pyrenees logo and location in the cloud before it posted to Facebook.
"dwinQ is absolutely amazing technology. I'm Irish, but live in Vancouver, British Columbia. All of my mates and family wanted daily race updates. With dwinQ, they got the update before I did – and they got a picture, which is worth a thousand text messages. I wish all my races had dwinQ," commented Mark Sherman who raced for Thames Professionals CC.
"We are very proud to be working with OC Sport, they are a leader in innovative sports event marketing. Their events are so iconic that they make amazing social media content. The pictures taken during the Haute Route Pyrenees were shared on average over 425 times per photo. Each rider averaged roughly 18 photos during the event – so hundreds of thousands of people were able to share the story of this once-in-a-lifetime event," explained Patrick J. Sweeney II, CEO of dwinQ. He added, "This is a sponsor's dream come true – being able to reach an affluent, highly sport-specific group of enthusiast with influential social media marketing. It's the most impactful product placement in marketing."